Date Published: 05/12/2010
ARCHIVED

- Cartagena Spain, Semana Santa, overview
Cartagena Spain, Semana Santa, What actually happens and programme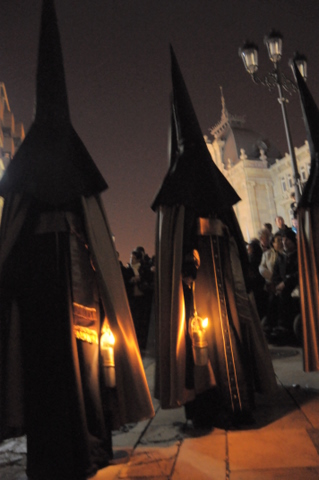 Semana Santa, or Easter week, in Cartagena is renown for its military processions, shining rows of Capirotes and cloaks swishing through silent streets, the metallic clunk of staffs on marble paving, spectacular tronos on a vast scale, 100 robed figures swaying together as lights tinkle in the darkness and the crowd sing the salve of Cartagena.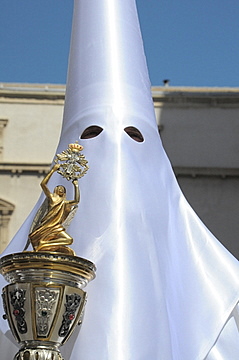 Its a week of charged emotion, solitary saetas ringing out from a spotlight balcony, of drama, of colour, of the sweet smell of flowers and the shadows of candlelit figures passing in silent rows through darkened streets, blood red roses and the smell of the sea as Saint Peter passes in the resurrection parade.
If youre in the Region of Murcia during Semana Santa, make sure just one night is in Cartagena to witness the uniqueness of its processions and the eerie precision of the marching penitents.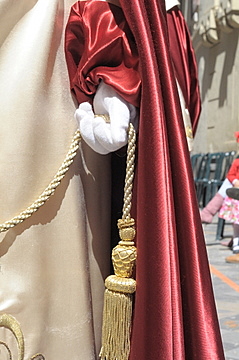 Well build this information year on year, starting with 2010.
Semana Santa in Cartagena, 2010
Well start with Semana Santa in the Region of Murcia, whats it all about
This explains the basics of what Semana Santa is and the different events you can see across the Region.
Click, Semana Santa in the Region of Murcia, whats it all about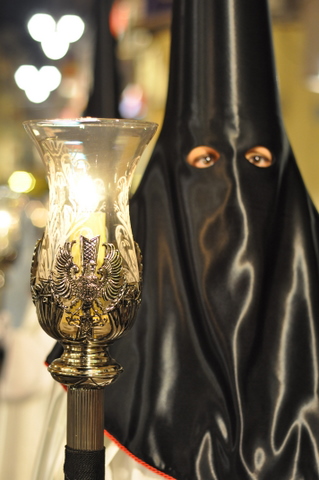 Viernes de Dolores, Dia de la Patrona,
This is the Friday before Holy Week begins, and in Cartagena is the day of the patrona of Cartagena, the Virgen de Dolores and the Via Crucis, parade of the stations of the cross.
A floral offering is made to the patron, by thousands of people dressed in regional costume, bearing flowers for the patrona, which are collected in huge metal stands at the entrance to the Iglesia de la Caridad.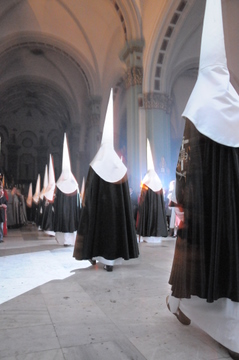 Inside the church the arriving participants are greeted by the mayor and councilors, and the Via Crucis follows the stations of the cross outside in the streets.
Its a special experience to be part of this, especially if you make your way inside the church and follow the Via Crucis after it has stopped at the church.
There are 2 reports here, one a brief explanation of what is going to happen, Viernes de Dolores 2010, Click, Viernes de Dolores, Cartagena
Then 3 days, 3 cities, 3 Semana Santas, which includes information about what did happen in Cartagena.
Click, 3 days, 3 cities, 3 Semana Santas in the Region of Murcia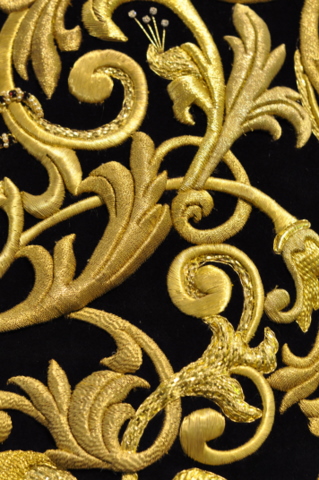 Cartagena Diputaciones, the parades taking place outside of the City Centre, Click, Cartagena, Semana Santa in the Diputaciones
Cartagena Semana Santa, Jueves Santo, the procession of silence.
Street lights are extinguished and the penitents march in silence, atmospheric and eerie, the night of shame.
Click , Semana Santa Cartagena, Jueves Santo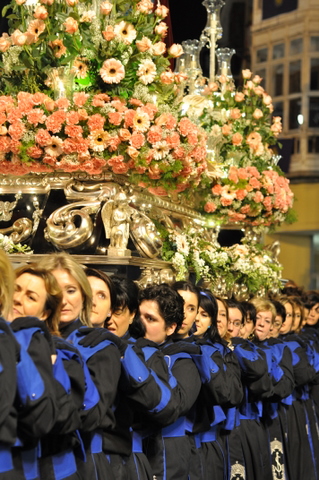 Cartagena Semana Santa, Day of the resurrection
Light, flowers, Christ resurrected, white robes shining in the sunlight, a day of celebration.
Click Semana Santa Cartagena, Day of the Resurrection.
article_detail
Contact Murcia Today: Editorial 966 260 896 / Office 968 018 268