Date Published: 21/10/2013
Mayor of Sucina rubbishes English-speaking police plan
ARCHIVED ARTICLE
The PSOE opposition have also called the plan "marketing and propaganda"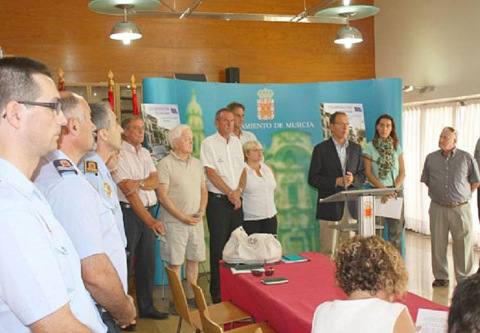 Mayor of Sucina, Jose Mercader, claims that no new officers are being taken on, and recommends a refreshing drink to members of the Town Hall
José Mercader, the Mayor of the outlying district of Sucina in the municipality of Murcia, has a penchant for finding original ways of making his feelings known, and decided to deliver a "refreshing bunch of mint" to the Town Hall so they could "freshen up" following what he saw as a misleading propaganda press release by the council relating to provision of English speaking police officers for urbanisations within the Murcia municipality.

This followed a presentation earlier in the week in which the local Murcia council announced that the Policía Local is to offer extra English language services to the foreigners living in the resort-style developments of the municipality of Murcia, among which are Sucina Golf, Hacienda Riquelme, Sierra Golf, Mosa Trajectum and various other developments on which there are English-speaking residents. This initiative was reported in some sectors of the Spanish press as including the introduction of "bilingual" police officers, but in fact it refers merely to the fact that police able to speak some English will be available to help residents on the developments.

In Sr Mercader's opinion the decision to provide extra personnel to cater for the developments "would be marvellous news, except that it's false", and he went on to explain that in fact there is to be no increase in the number of police officers in Los Martínez del Puerto, and there are to be no new recruits with experience in performing this kind of role except for two voluntary workers.

In conclusion he insists that he and his colleagues in Sucina have been requesting a real improvement in the service offered "for years", but clearly he is not satisfied with the progress made or the latest council initiative.

The PSOE opposition party put out a press release calling the presentation " a new marketing and propaganda initiative of the municipal PP government, " and went on to say, " they are selling the normal day to day work of communicating with residents as being something new, when in fact what they should be worrying about is increasing the patrols in the Murcian pedanías ".

They went on to criticize the lack of discussion between the council and pedanías such as Sucina which already has a collaboration with its foreign residents ( but is not PP governed) and commented that the concejals who already have a responsibility for looking after these residents, "should understand that they represent all of the residents, not just those who vote for them. "

As a brief explanation, there has been a lot of pressure applied to Murcia council by businessmen within the city who have accused the authorities in the past of not doing enough to attract foreigners and tourists to the city, the response to which was to launch the Murcia 365 days a year tourist campaign. The construction sector has also complained that not enough is done to court foreigners, Murcia having a heavy dependence on the residential tourism sector, with a large percentage of the tourist visitors who come to the region related to the fact that so many foreigners own property in the region on the residential urbanisations and if they don´t actually live here, fly out for holidays, and receive visits from family and friends.

So what the PSOE are saying is that this initiative is little more than propaganda to show the council are looking after their expat residents and silence the critics, although the council insist that this is an initiative to help foreign residents who don´t speak Spanish.

The council say they have printed 3000 leaflets to promote their police initiative to the expat residents and are "collaborating with a Costa Blanca newspaper" ( paying for) in order to get their message across to the residents. This in itself is surprising, as they have selected a Costa Blanca paper which as its name suggests, distributes along the Costa Blanca which is where most of its content relates to, not the Costa Cálida or Murcia, and reaches a relatively small percentage of Murcia residents when compared to a dedicated Murcia media product.

Residents on the urbanisations welcome any initiatives to improve security following the increased numbers of domestic burglaries reported not only in Murcia but right across Spain ( 25.4% increase nationally in burglaries during 2012) and many lack sufficient Spanish to be able to adequately report such situations in Spanish should they find themselves in need of police support. Unfortunately, some of the urbanisations which fall within the Murcia municipality are those which most need support from the authorities as they have a lower population density than other residential urbanisations in the region, and are thus more vulnerable to theft, the Mayor's statement during the presentation that, "it is important to offer an image of Murcia to the rest of Spain and Europe as being the ideal location in which to live, which offers ideal conditions of tranquility, peace and quality of life ".

Peace and tranquility are certainly appropriate choices of phrasing for some of these locations where golf courses have been closed by promoters and the residents virtually abandoned with incomplete infrastructure and services as the construction implosion has stopped building and brought sales to a screeching halt.
"Offering an image to the rest of Spain and Europe" is a laudible intention, but those long in the tooth who have watched generations of squabbling politicians come and go, may prefer the time-proven adage, "actions speak louder than words."

Contact Murcia Today: Editorial 966 260 896 / Office 968 018 268