Torre Vigia, Cabo Roig
The Berber pirate watchtower, Cabo Roig, Orihuela Costa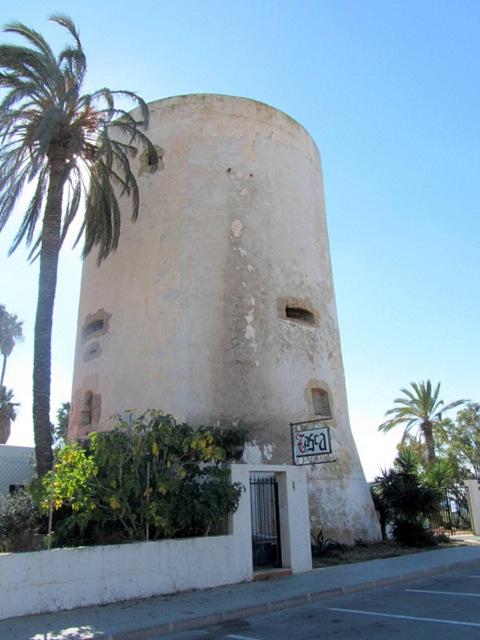 This watchtower is visible throughout the southern end of Orihuela's 16-kilometre coastline and further south into Pilar de la Horadada and the Region of Murcia, but of course more important to those who built it is that the rest of the coast is visible from the watchtower.

Although it is probably built on the site of an old Arab structure from before the area was conquered by the Christians in 1243, ( see History of Orihuela) the structure of the tower as it stands today dates mainly from the 16th century. Its structure is simple: made of stonework and masonry, it stands on a 3-metre high plinth and the cyclindrical structure is slightly tapered towards the top.

This was one of a network of watchtowers built to protect coastal areas from Berber pirate raids which continued until well into the 17th century, and of course its location on the headland made it perfect to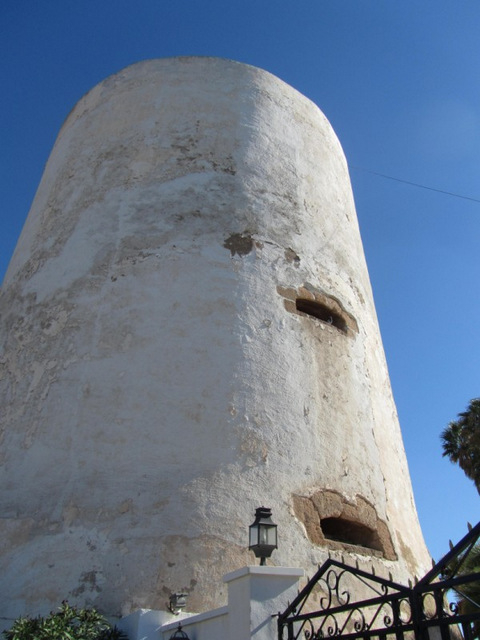 give local inhabitants early warnings of any such incursions. As soon as invaders were spotted a beacon would be lit on the top of the tower, passing the message on to other local watchtowers such as the one in La Torre de la Horadada. The narrow slits and windows in the main structure were used purely to look out to sea, and not to allow light inside the building.

The whole of this southern coast of Spain suffered from Berber pirate attacks from the 13th to early 17th centuries. Southern Spain was occupied by Moorish invaders from Africa in 712 AD, and they remained in power until the middle of the 13th century when the Christian forces of the Reconquist from northern Spain pushed them into Granada.

Although some remained in their homes and accepted Christian rule, others rebelled and were expelled from the country, becoming pirates and attacking the Christian settlements from sea. Those who refused to accept the new rulers either left or went to Granada where they remained until 1492 when the combined forces of Isabella and Ferdinand expelled them from Spanish soil altogether.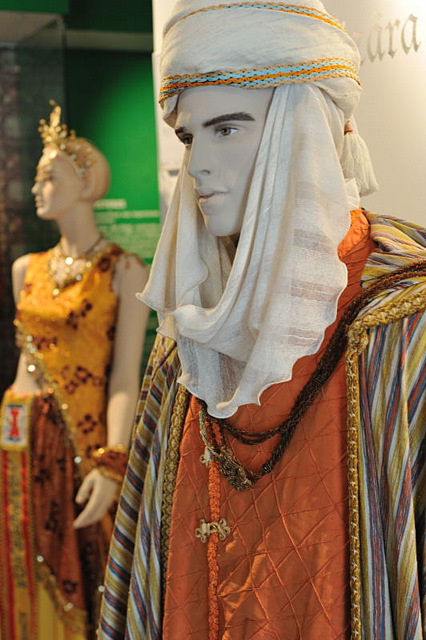 Thousands of Muslims who refused to convert to Christianity ( or at least pretend to) were expelled, losing their homes and livelihoods. Piracy was an easy option and this coastline was harassed by pirate raids, stealing crops, livestock and even people, who were ransomed or sold as slaves. Many coastal areas remained depopulated, due to the ever present threat of piracy.

When the Berber pirate threat receded many of the watchtowers fell into disuse and eventually disappeared, however this one survived and was declared part of Spain's historic heritage in 1949, a status reaffirmed under the democracy in 1985.
Nowadays the tower of Cabo Roig is in private hands, and forms part of a bar-restaurant overlooking the marina and the bay out towards Campoamor.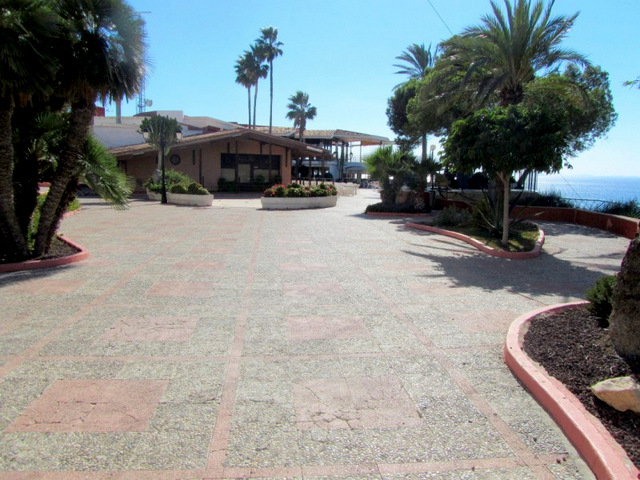 To reach it follow the Avenida El Cabo which runs along the coast of Cabo Roig, and take the dead-end side street of Calle Torreón near the south-eastern tip of the headland. There is car parking available alongside a small arcade of commercial premises and bars in the same street, and with the marina and coastal path lying just below this can be a short but attractive visit during a drive along the coastline.
And of course, a good excuse to head to the coast and spend a day on the glorious beaches of Orihuela Costa.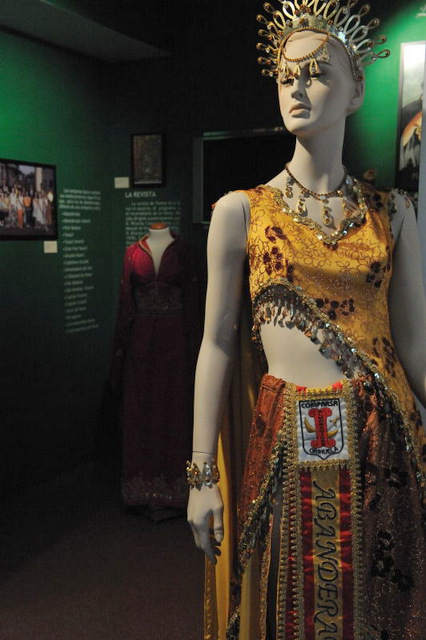 Click for map, Calle El Torreón, Orihuela Costa

Orihuela celebrates a Moors and Christians fiesta each year in honour of its Moorish past. There is a small museum in Orihuela city in which some of the costumes worn by participants in the acts of the fiesta can be seen. Entry is free of charge.
Click for more information, Museum of the Reconquista, Orihuela.

article_detail
article_detail
Contact Murcia Today: Editorial 966 260 896 / Office 968 018 268