Cala Capitán beach, Orihuela (Cabo Roig)
A beautiful and well-equipped beach to take your breath away!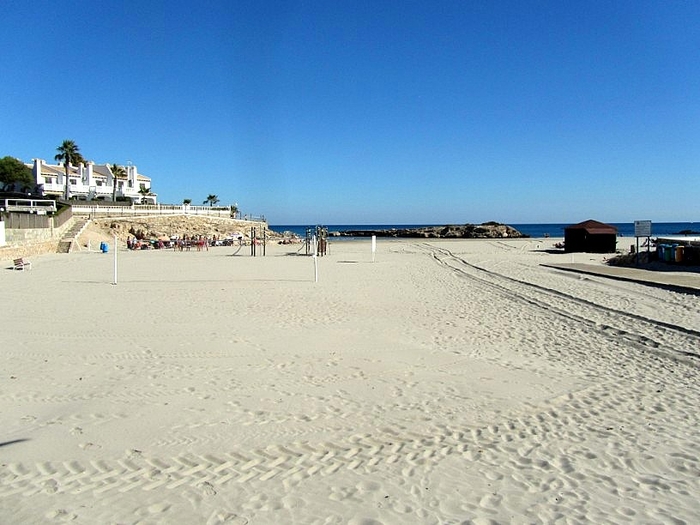 If you've never been to Cala Capitán before, and arrive early in the morning on a clear day, before the rest of the day's swimmers and sunbathers have poured onto the sand, you might catch yourself involuntarily emitting a very audible and potentially embarrassing "Wow!"
It really is a beautiful beach, and is justifiably popular.
The beach consists of a cove which is protected by a small island (the Isla del Carmen), and the resultant currents have allowed a large expanse of fine white sand to accumulate here. In fact, the sand now reaches all the way out to this island. Although it is not a long beach – officially measured at just 157 metres – this means that it is very wide, reaching a width of about 85 metres, and all of the sand is carefully looked after even out of high season.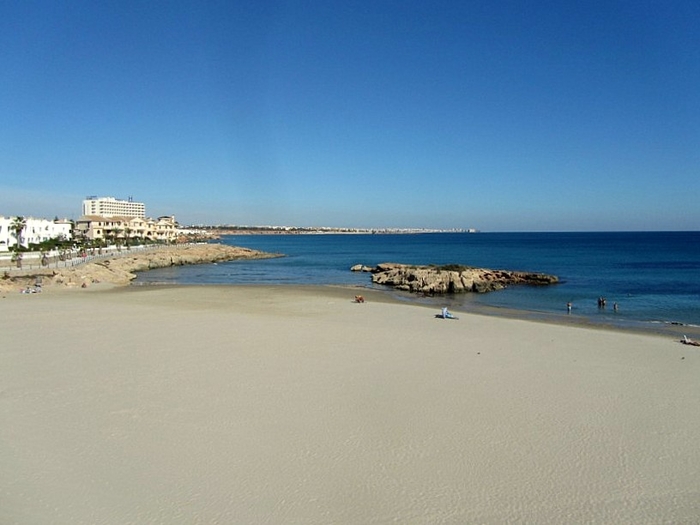 The beach is very attractive, and is popular among sun-seekers, who can enjoy not only the bar and cafeteria but also sunbed and sunshade rental, a children's play area, a beach volleyball court and toilet facilities. Parking is not as difficult as at many beaches in built-up areas: there are two small car parks by the sand, and in the nearby residential streets there are normally spaces available except at the very height of summer.

In addition, special parking spaces are designated for use by the disabled, and there are also wooden walkways and even a ramp to make access as easy as possible for those of limited mobility, although there is no cliff here and nothing more than a gentle slope separates the sand from the streets. There is also a toilet specially adapted for use by the disabled.

Most of these facilities are normally available only in high season (from mid-June to mid-September), but if the weather remains fine they can be prolonged right into November.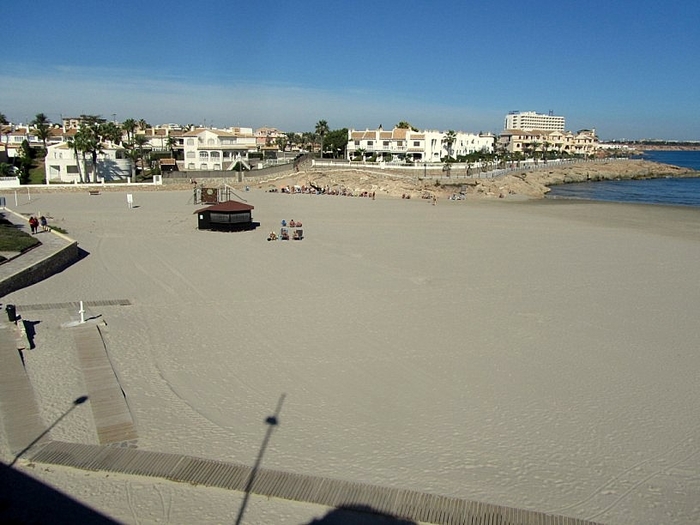 As at all of the beaches in Orihuela Costa there are foot showers, any seaweed drifting ashore is removed daily, the bins are emptied every day and great efforts are made to ensure that the environment is kept as clean as possible. In high season there are waste recycling containers, the seawater and foot shower water is analysed every day, information is provided regarding bathing conditions and the presence of jellyfish, and both a lifeguard (with watchtower) and first aid point are installed to ensure the safest bathing possible.

The area behind the beach is largely residential, and there are no beach-front eateries, so visitors will probably want to make use of the beach bar, bring their own packed refreshments or make a short journey up the coast towards La Zenia, where there is a hotel and restaurant overlooking the sea. This is only a couple of hundred yards north, and it's possible to walk along the beach around the headland. Numerous further eating establishments are located along the N-332 and parallel streets.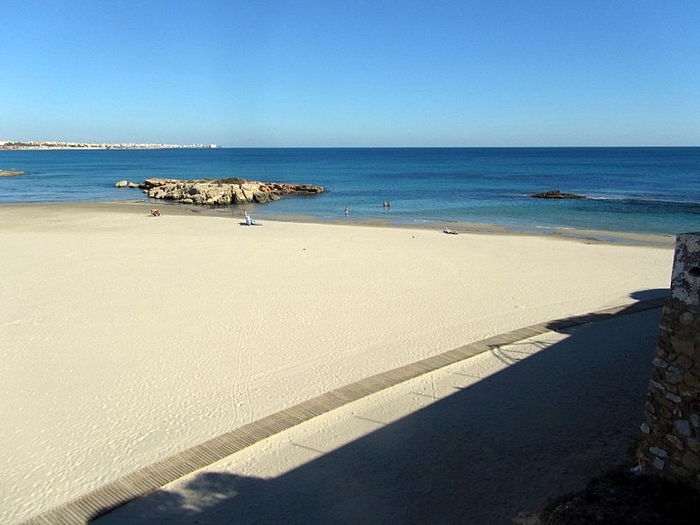 The only "standard" beach feature not available at Cala Capitán is the hiring of pedalo boats, but with all the services offered it is not surprising that the beach boasts the coveted Blue Flag all year round, as well as the "Q" status denoting quality tourism services.

The beach is located between the residential areas of La Zenia to the north and Cabo Roig to the south, and is easily reached by following the sign to "Cala Capitán" from the main N-332 road at the Cabo Roig roundabout. From here it is simple either to follow the main Avenida Cabo road round the Cabo Roig area until you reach Cala Capitán, or take the left turn after 500 metres onto Avenida Velero for a slightly more direct route.

Click for map, Cala Capitán
Click for beach overview of beaches within the Orihuela municipality
Contact Murcia Today: Editorial 966 260 896 / Office 968 018 268