Date Published: 14/06/2010
Aloe Saponaria, superb ground cover or specimen plant for any dry spanish garden
Essential plants for dry Spanish gardening, Aloe Saponaria, one of a gardeners best friends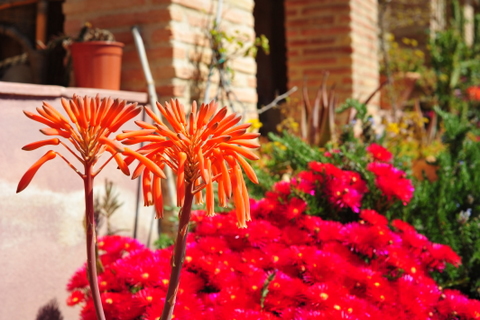 There is no point fighting the Spanish climate and trying to plant sappy flowers with soft leaves, in order to create dry landscapes which will survive the hot summer, it is necessary to choose plants which can resist the extreme heat of summer and survive with little or no water.
Aloe Saponaria is an aloe which can be found in rustic country fincas, abandoned for many years, coating the ground with a dense, spiky layer, bearing orange flowers in spring and providing ground cover throughout the year.
One of the most extreme examples of its survival was discovered at the military battery of La Chapa in Portman Bay, behind the La Manga Club.
This military battery was built in the 1930s as part of Cartagenas strategic defence plan and inhabited from this date to 1994 when it was decommissioned and abandoned.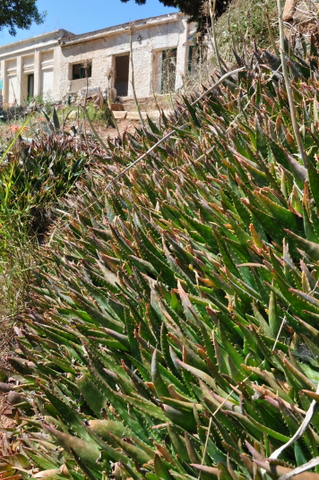 When we visited in 2010, work was under way to clear the site and tidy it up as a visitor attraction, and amongst the abandoned buildings were the remains of gardens built by the soldiers. Among them one of the prize plants which had been left behind was this aloe, which had spread across the banks to form dense ground cover clumps, covering vast areas of the exposed hillsides, with very little evidence of weeds amongst the growth, the densely packed aloes claiming every scrap of space across the hillside.
Abandoned for 16 years, they had extended unchecked and thrived with no help, and no artificial irrigation.
They propagate by creating offsets, via stolons, which is almost like an umbilical cord forcing through the ground to emerge with a baby plant on the end, a perfect copy of its parent, and they continue to send out one perfect copy after another, forming a solid mass if left unchecked.
Sadly, shortly after this article was written, the vast clumps were ripped out by ecologists, determined to make sure only native plants grew in this place, not invasive foreign species such as this Aloe. On a personal level, the Ed was deeply disappointed, as a large space in the garden could easily have been filled for free, the Ed being too embarrassed to be caught plant rustling had only liberated one or two very small specimens when no-one was looking, instead of backing the car up and filling the boot.
Planted singly, they soon spread to form an attractive clump of several plants, and if the parent becomes too large, or looks tatty, simply pull; it out and the offspring will soon fill the space.
Propagating couldnt be easier, as the young plantlets detach easily from the parent, lifting the young plant with a fork will usually detach it completely, and a sharp tug will usually do the trick should it still be joined. Normally once roots are set the stolon withers away and the plant is free to grow on its own, and once you have acquired a single plant, it takes very little time for them to begin multiplying.
Planted in groups, they form attractive feature plants for rocky areas, but are also extremely useful for ground cover, preventing erosion if used to support banks , as they had been at the military battery, and will tolerate shade and semi-shade , as well as full sun.
Theyre also an extremely useful filler to be used in spaces whilst waiting for something else to grow. We often underplant them in the full knowledge that theyll be taken out once something else grows to size as theyre so forgiving and transplant really easily. This is how weve used them in the mixed planting scheme- they were planted to fill a space quickly, but now the desired plants are reaching the required size theyll be taken out and put somewhere else.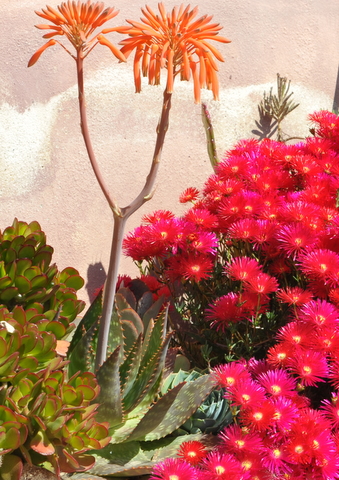 In spring they bear attractive orange flower spikes, which soar elegantly above the plants, and if faced with extreme drought conditions, will assume a burgundy hue, but dont worry, once the autumn rains begin they soon rehydrate and resume their characteristic dark green appearance.
When transplanting young plants they often shock and assume this burgundy hue, but dont worry, come the rains of autumn and they soon perk up.
Don't put these anywhere near a watering system as they take in too much water and growth is leggy and weak.
Ongoing care
After flowering, remove flower spikes. Either cut off close to the plant whilst still green, or allow to dry out completely, in which case they detach easily from the plant.
To encourage production of young plants, remove lower leaves.
As the plant grows upwards, the lower leaves shrivel and die, a natural process. Removing them stimulates more young production, and makes the plant look tidier, although often it is better to remove the central parent plant after 3 years or so and allow the young to take its place, as they can become quite large if receiving water and allowed plenty of space.
Large banks such as the one found at La Chapa, will have many dried up leaves beneath the plant mass.
In cases such as these, remove the brown leaves and plant the stem deeply to bury it up to the point at which the healthy leaves begin, and they will soon send out new growth.
Normal height, around 40cm, with a spread of 60cm per plant.
Personal comments
One of the most useful and invaluable dry garden plants imaginable, attractive structure, beautiful flowers and virtually indestructible. We use them extensively in many locations and most of our original stock came from another military battery at Castillitos, where again, thousands cover the hillsides and the disappearance of one or two was a blessing for the workmen clearing the site rather than a problem, so dont be shy, these grow in abundance in many places and their owners are usually quite happy to lose a few.
article_detail
Contact Murcia Today: Editorial 966 260 896 / Office 968 018 268