Suggested Walks in Pilar de la Horadada
Coastal walks and the río seco at Campoverde
Coastal walks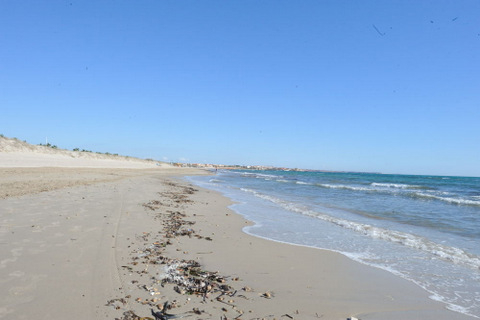 For those who enjoy fresh sea air, there is no better place to walk than along the coastline of Pilar de la Horadada.
There are walkways right the way along from the Murcian border at El Mojón to the Orihuela border, the 5km along the Pilar de la Horadada coastline offering a wide range of landscapes and surfaces upon which to walk.
This coastal route follows Sandy dunes, decked walkways and palm-lined paseos, walkers doing as little, or as much as they would like. There is always parking alongside the beaches, although it is more difficult to find parking in the central beach section where the urban developments are densest, good places to park being by Playa Higuericas or Mil Palmeras where there is plenty of open space. And of course, lots of nice places to stop for a coffee en route. ( Click for beach guide, Torre de la Horadada)

Pinar de Campoverde, Río seco.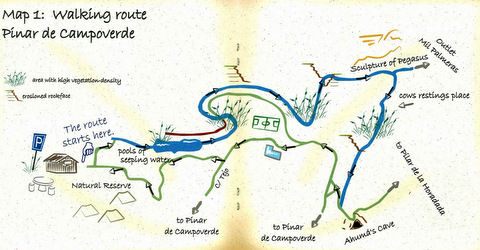 Click for Pinar de Campoverde
Pinar de Campoverde is several kilometres outside of the main town of Torre de la Horadada and is a residential area, set amongst pine forests. To one side of the development is the Río seco, a dried riverway which fulfils more of the function of a rambla, running from Pinar de Campoverde out to the sea at Mil Palmeras.
There are two suggested routes to follow the course of this river bed, one 4k and the other, 10km.
Both start from the visitors centre, and follow the course of the riverbed through the area where the river bed is most eroded, with curious rock formations and cavities in the sides of the valley. The visitors' centre is open only at weekends from 10.00 to 19.00 except by prior appointment with the Town Hall, where an informative and beautifully illustrated booklet is available from the Tourist Information office, however, the route can be walked without having to stop at the centre.
These walks are enjoyable at any time of year, although this is a nice place to escape the summer heat, the trees offering cooling shade.

Route 2: Río Seco. This route follows the river bed down to its mouth by the Mil Palmeras urbanisation, and along it there are information boards concerning the flora and fauna and plenty of rest areas, including one in the Mil Palmeras urbanization. This walk is also covered by the booklet available from the Tourist Information office.
Both of these routes can be enjoyed at your own leisure, and there are picnic areas provided, or a pleasurable stop-off can be had at the Mesón Río seco, 2 kilometres along the route where there is a restaurant set among the pine trees next to the tennis courts and open air swimming pool which can be used during the summer hours.
The start point of the routes can be found by driving straight through the centre of the residential urbanisation, past the commercial area, then taking the left hand turn for recreational area, down towards the pine forest area. Follow this road down and after about 1 kilometres, the road descends into the forest and the visitors centre with parking areas can be found at the end.

article_detail
Contact Murcia Today: Editorial 966 260 896 / Office 968 018 268