The beaches of Torrevieja: an overview
From tiny coves to long, wide beaches, Torrevieja has it all
During the last forty years the population of Torrevieja has mushroomed from 10,000 to over 100,000, due to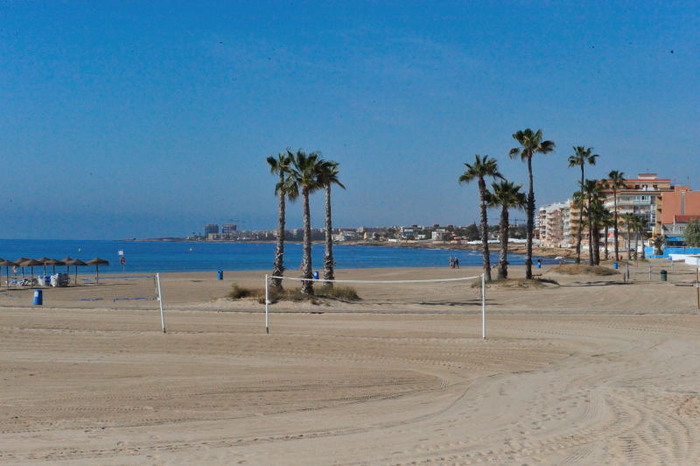 a variety of reasons including the climate and forward-thinking town planning, but the spark which originated its popularity among residential tourists from abroad was, without any doubt, the beaches and their proximity to the residential areas.

Along the 20 kilometres of coastline there are a series of very different bathing areas, some facing south and others facing east, from tiny coves measuring no more than a few metres to the wide swathes of beach on the boundary with Guardamar de Segura in the area of La Mata. Some are urban while others are relatively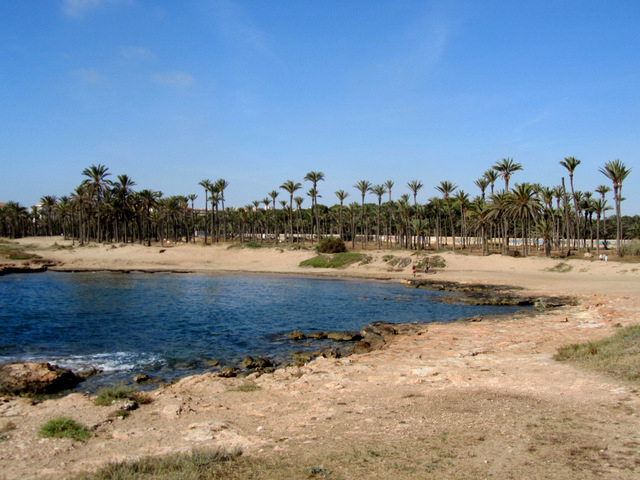 unspoilt, and some are packed with summer holidaymakers whilst others are relatively sparsely populated even in July and August. There truly is a little bit of something for everyone on the coast in Torrevieja.

Of course the rapid expansion of the town since the late 20th century has both its upside and its downside: on the positive side, there are now excellent lifeguard and beach cleaning services, and seven Blue Flags are flown at the beaches and marinas of the municipality. In addition, such is the volume of year-round occupation that a wide range of restaurants and bars cater for all needs of both residents and visitors, and the permanent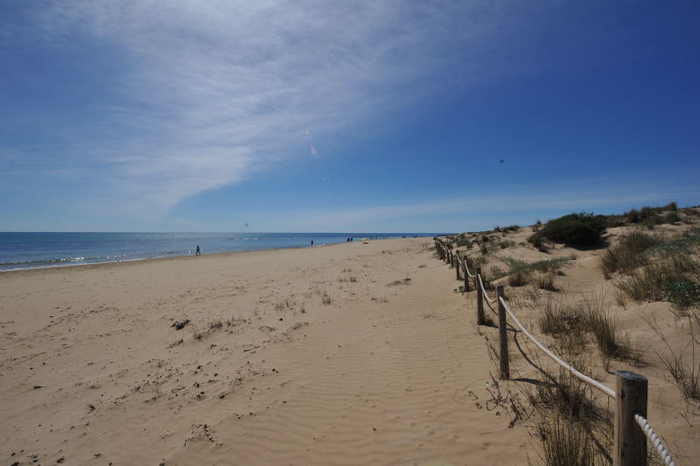 infrastructures lying behind the beaches are impressive in comparison to other coastal areas in south-eastern Spain.
Those of limited mobility can also request transport to the beach by phoning the Red Cross on 965 71 18 18 during July and August.
On the downside, of course, there are those who would complain that Torrevieja has been built up too much and too quickly. In some areas the skyline is dominated by bricks and mortar, and the town is so international (under half of the residents are Spanish) that it could be said that the municipality is no longer representative of "real Spain".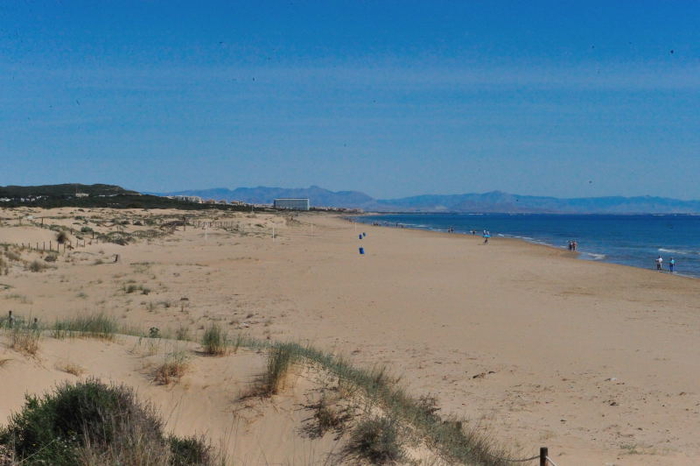 However, none of this should detract from the beaches in the municipality, the main ones being the following (listed from north to south):

Playa de La Mata: almost two and a half kilometres of sand with four lifeguard lookout points in the less densely populated area of La Mata at the northern end of Torrevieja, leading up to the dunes of Guardamar de Segura. Blue Flag.
Click for more info, Playa de la Mata, Torrevieja

Las Calas: a series of about a dozen small coves, some of them sandy and others stony, which provide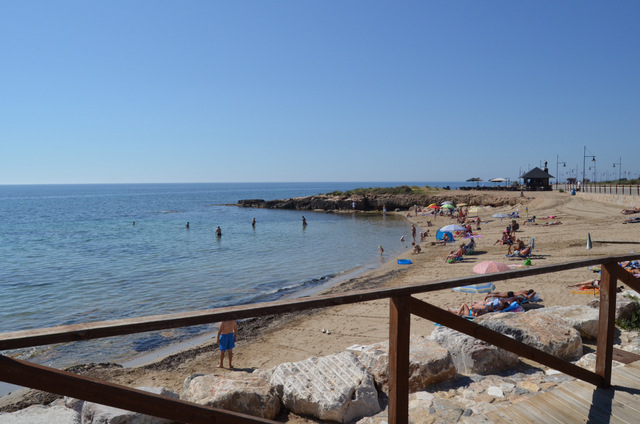 unspoilt conditions (and limited services, due to their size) for those who prefer to get away from the hustle and bustle of the larger beaches.
Click for map, Las Calas

Playa de Los Locos: a 760-metre-long beach which attracts hordes of visitors in the summer months, right next to a densely populated area in the northern part of the centre of the town. Blue Flag.
Click for more info, Playa de Los Locos, Torrevieja

Playa del Cura: 375 metres of well-looked after sandy beach right in the heart of the town centre of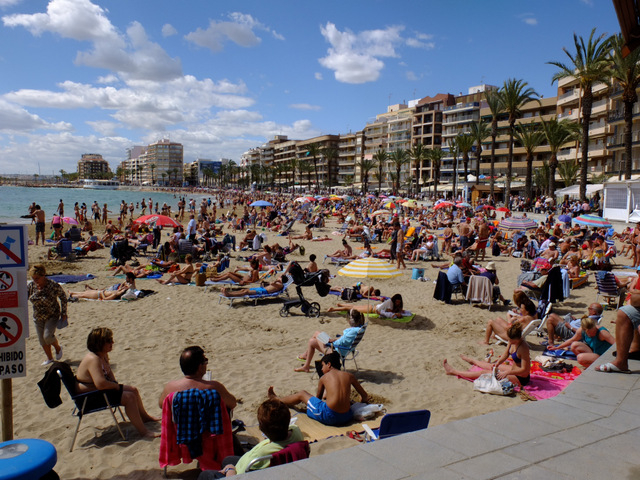 Torrevieja, with all the facilities expected of a Blue Flag beach.
Click for more information, Playa del Cura, Torrevieja

Piscinas Naturales: two artificially created coves located very close to the main promenade and the port in the centre of the town, with calm water and safe bathing conditions guaranteed by the man-made jetties.
Click for map, Piscinas Naturales, Torrevieja

Playa del Acequión: a short stretch of sand inside the port area as delimited by the jetty which is used to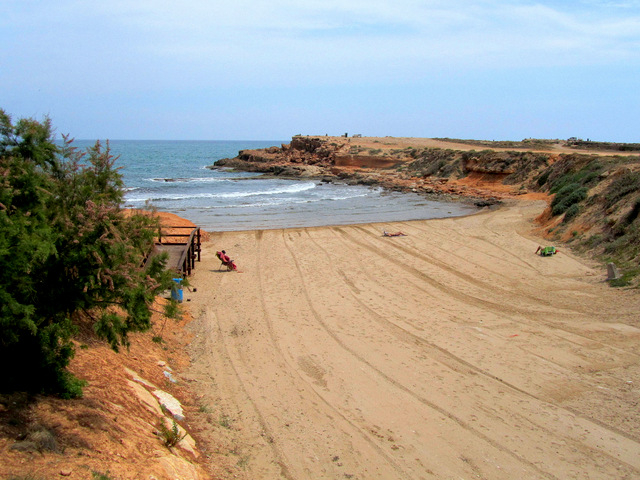 load salt onto ships for export: the beach-front bars and restaurants are popular all year round.
Click for more information, Playa del Acequión, Torrevieja

Playa de Los Náufragos: 375 metres of well-equipped sandy beach at the southern end of the town centre, this is a very busy area in the summer months. Blue Flag.
Click for more information about the Playa de los Náufragos, Torervieja

Cala Ferris: A rural oasis with palm trees lying behind the small beach, this is definitely recommended for those whose idea of a day at the seaside doesn't include noise, music and beach-front restaurants.
Click for more information, Cala Ferris

Cala Piteras: Located in a semi-built-up area close to the boundary with Orihuela Costa at the southern end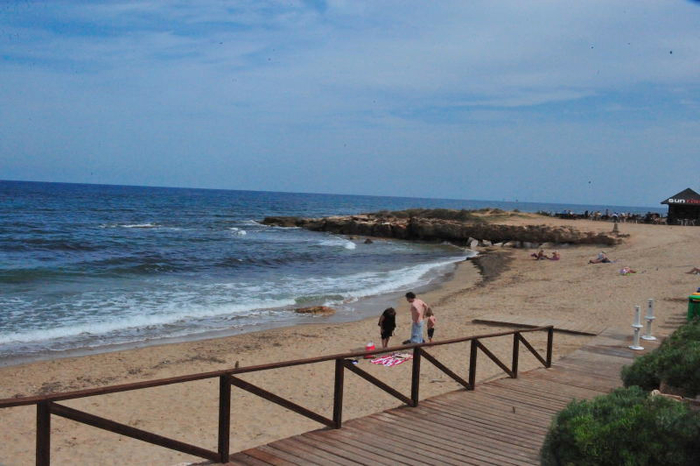 of Torrevieja's coastline, this semi-urban, relatively small beach (officially listed at 123 metres) provides something of the best of both worlds: Blue Flag facilities without the urban sprawl right next to the sand.
Click for more detailed information: Cala Piteras, Torrevieja

For day trippers, then, plenty to choose from, and of course the same is true for anyone planning to spend longer in Torrevieja: there's a wide range of hotel and rental accommodation available throughout the municipality, and a plentiful supply of apartments and houses to suit most budgets for sale.

Contact Murcia Today: Editorial 966 260 896 / Office 968 018 268