Date Published: 30/12/2014
Semana Santa in La Unión
Easter week or Holy week in La Unión
One of the most important weeks in the religious calendar is Holy week,( our Easter) or Semana Santa, which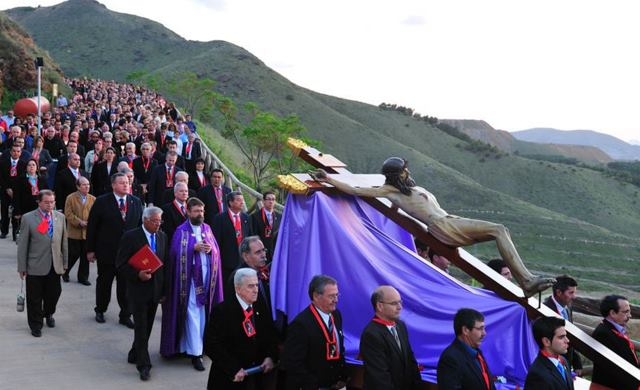 encompasses the week leading up to the crucifixion and resurrection of Christ. In Spain this week is filled with processions and ceremony as the Cofradías ( or brotherhoods) take their important sculptural works out into the street and parade them as an act of faith.
As only befits a municipality with a long history as a mining town, La Union has its own special Christ, Christ of the miners, Cristo de los Mineros, created by Valencian sculptor, José Gerique Chust (1868-1943) in 1913.
The work was first known in La Union as Cristo de los Bomberos and later as Cristo de la Cruz Roja , until 1947, when it was finally given the name Cristo de los Mineros to reflect the mining past of the municipality.
The most unique act of the week is the Vía Crucis with the image of Christ of the Miners, which takes place on the Saturday evening before Palm Sunday during which the figure of Christ is carried down from the Mina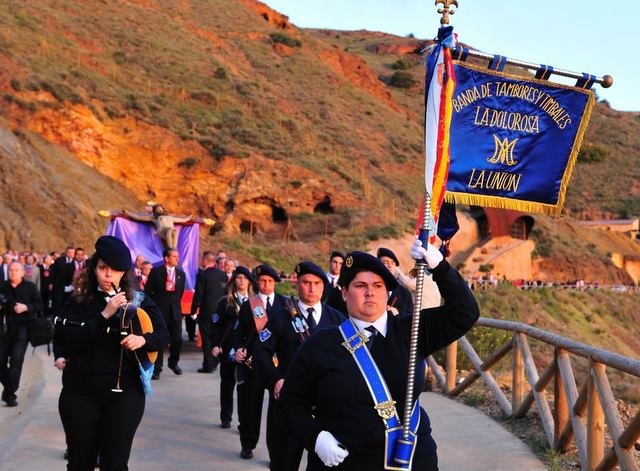 Agrupa Vicenta, high above the town, down through the Parque Minero to the Iglesia Parroquia Ntra Snra del Rosario in Calle de Numancia below. The journey takes just over 2 hours 20 minutes, the figure of Christ accompanied by hundreds of people and the town band. As the sun sets the figure of Christ is silhouetted against the sky, his passage concluding by torchlight as he winds down the former "Route 33" walked by the miners during the 19th and 20th centuries. It's a unique event only held in La Unión and is well worth participating in.
La Unión also has a saetas competition, linked to both its mining and musical traditions, which takes place in the main parroquial church on Wednesday night. Formerly the competition took place en-route during the Thursday night procession, but as the number of competitors grew it became difficult to manage, so now only those achieving a position in the competition the night before may sing during the Thursday night procession,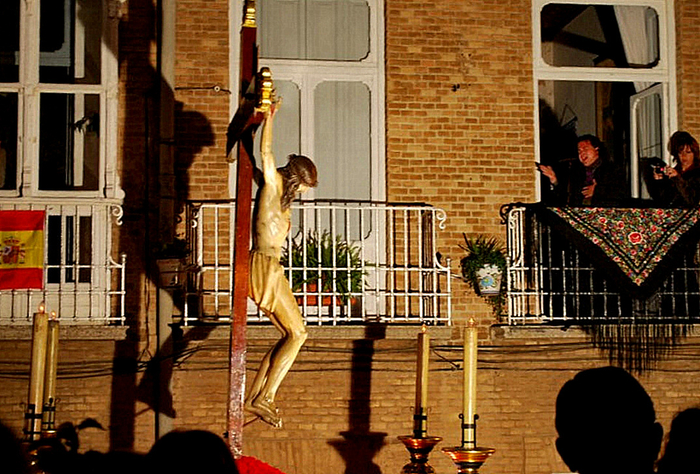 which has been given the status of Interés Turístico Regional, regional tourism interest as a result.
Saetas are defined as being Spanish hymns, although in La Union, which is famous for the Las Minas Flamenco Festival, theyre more akin to a flamenco song, and the verses are sung unaccompanied.
During this procession Cristo de los Mineros also parades, this time upright as Christ crucified, commemorating the thousands of lives lost in the pursuit of mineral wealth in this mining town, the sound of the saetas accompanying his passage.
All of the processions depart from the Iglesia Parroquia Ntra Snra del Rosario, which is Calle de Numancia and proceed through the central streets of the town, past the Casa del Piñon, the town hall.
La Unión also has a museum dedicated to its Semana Santa celebrations. Click Museo de la Semana Santa Minera, La Unión

Contact Murcia Today: Editorial 966 260 896 / Office 968 018 268