La Unión Fiestas
La Unión honours the Virgen del Rosario and Saint Barbara
La Unión Fiestas patronales
Local fiestas patronales in La Unión are dedicated to the Virgen del Rosario and generally take place between the 4th and 12th October, which means they also fall around the celebrations in honour of the Virgen del Pilar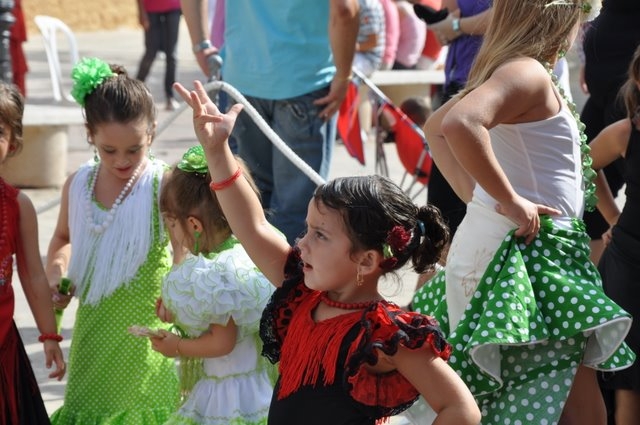 on the 12th.A vast range of events and entertainments take place in the town during the fiestas, with two main focal points of activity: the old industrial installations of the Maquinista de Levante are filled with the main fairground and peñas and the Plaza Joaquín Costa, in front of the old public marketplace, the antiguo Mercado Público, is the centre point of many of the main musical and social events.
The programme is filled with open-air dances and live music, parades, ( the parade on the 12th October features floats made entirely from little rolls of coloured paper, a huge amount of work) competitions, both sporting and social, lots of free food, motorbikers gathering, fiesta rociera, fireworks and the religious acts including the procession in honour of the Virgen del Rosario.
La Unión also celebrates the Fiesta of Santa Barbara, patron saint of miners, on the 4th December
Fiestas in the pedanía of Portmán
Portmán celebrates its annual Fiestas Patronales in honour of Santiago Apóstol, around the saint's day on the 25th July.
It also holds a Procesión Marinera in honour of the Virgen del Carmen, on the 16th July commemorating the fishing traditions of the pedanía. This procession is held on land and not at sea.
Portmán also holds its own Semana Santa celebrations, with processions on Jueves Santo and Domingo de Resurrección, Easter Sunday and at Christmas holds a Christmas market and a good programme of activities for the festive season.

Roche
The pedanía of Roche holds local fiestas during the summer months of July and August, known locally as the Fiestas Populares de Roche.

Contact Murcia Today: Editorial 966 260 896 / Office 968 018 268