Domingo de Piñata in BLanca: San Roque retreats for Lent
San Roque will return to Blanca for the spring fiestas
Every year Blanca celebrates Carnival, which takes place 40 days before Easter Sunday and signals the beginning of Lent.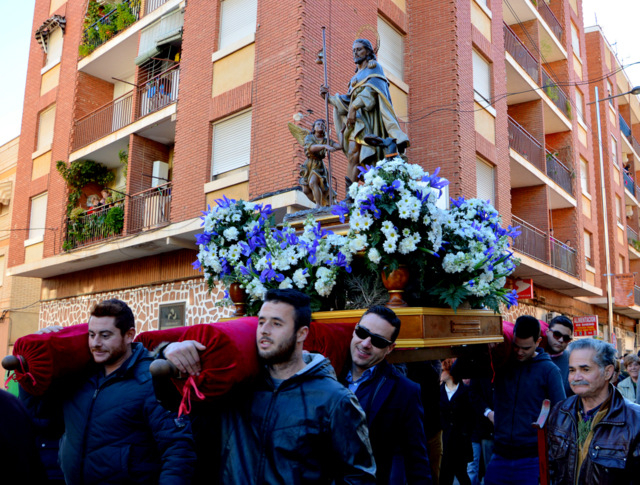 Carnival is becoming a larger event every year across Spain, as tens of thousands of people dress up in fabulous costumes and enjoy one last party before 40 days of supposed abstinence.
Carnival concludes for many on the Sunday after the 1st day of Lent, known as Domingo de Piñata, and in Blanca it is tradition for the patron Saint of Blanca, San Roque, to be transferred to his Lent retreat where he remains until after Easter, when he returns in Romería.
The procession sets out from the Iglesia San Juan Evangelista towards what is known as the "punta del pueblo". Here the inhabitants of Blanca bid farewell to their patron with applause and the singing of "La Burra" by the town's music society, and the Hermandad de San Roque then transfers the image to the Ermita.
This traditional procession is a foretaste of the spring fiestas in Blanca, which are held straight after Easter. One of the main events is the Romería de San Roque when the saint returns from his chapel in procession, accompanied by most of the town, his arrival celebrated with traditional folk music and food.
As with all Romerías, this is a family occasion, when friends and neighbours gather to enjoy a sociable day together and take part in the traditional transfer of their patron saint.

A little additional information about San Roque
Saint Roch is known as San Roque in Spain. Born in the 13th century in Montpelier, France, he was the son of the governor of the city and as such was a well-educated and relatively well-off individual.
San Roque is often depicted with a dog at his feet and is generally thought of as the patron saint of dogs, as well as being credited with power to protect against the plague.
Legend recounts that San Roque was born with a birthmark shaped like a cross on his chest, and aged 20, rejected the wealth and position he could have inherited when his father died to make a pilgrimage to Rome.
On his journey he encountered the greatest killer of the Middle Ages, the plague, and began to perform miracles, healing the sick. Finally, he himself fell victim to the plague and went out into a forest to die, but was aided by a dog, who stole food from the nearby village with which to feed him and he gradually recovered, hence the frequent depiction of the saint with a dog at his feet.
Finally, returning to Montpelier, he was arrested for being a spy and died in prison.
Gradually his cult emerged as miracles were accredited to his intervention, principally those relating to the plague, and he was finally canonised by Pope Gregory XIV with August 16th celebrated as his official saint's day.

Contact Murcia Today: Editorial 966 260 896 / Office 968 018 268