Calblanque regional park

A great area area for walking with several wild and picturesque beaches
1,882 hectares of land in Calblanque have been a protected nature reserve since 1987 in recognition of the fact that the area is one of the most typical of the coastline of the Region of Murcia in its natural state. There are cliffs, sandy beaches, fossil dunes, salt flats, saltwater marshes, mountainous outcrops and crops, all of which are now protected against the relentless onslaught of development. The pressure from human civilization is especially noticeable in the summer, when litter and road traffic exacerbate the problem.
The rich flora in the area includes dwarf palms, juniper and other bushes. These are especially prevalent in the mountains, which include Cabezo de la Fuente (342 metres) and Cabezo del Horno (258 metres). The lower ground associated with farming features fig and carob trees as well as some species which are indigenous to the south-east of the Iberian peninsula, such as Euphorbia mazarronensis and Guiraoa arvensis, both of which are under threat of extinction.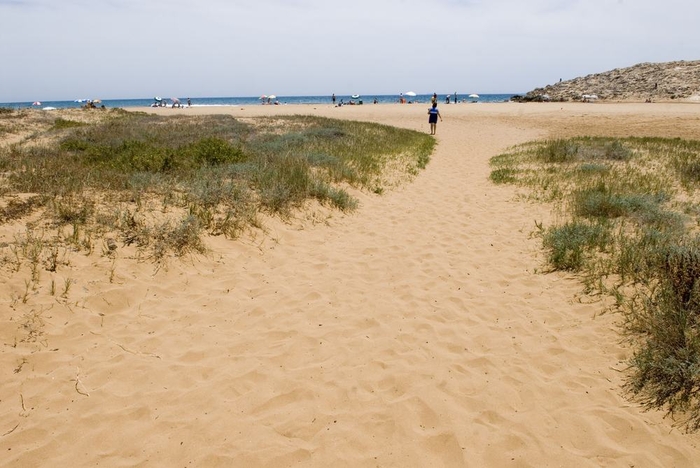 The flora is also of great interest in the Rasall salt flats and the saltwater marsh around them, containing species which have adapted to life in a salty environment. These include sempervivums and tamarix, and living among them are seabirds such as stilts, flamingos, sea herons and other waders. Under the water the Spanish toothcarp, another protected species, can also be found.
In the dunes there are bird species such as the stone-curlew, the lesser short-toed lark and the crested lark as well as the red-tailed spiny-footed lizard, while in the mountains there are eagle owls, bee-eaters, Bonelli's eagles and warblers. Mammals are represented by foxes, rabbits, badgers and beech martens.
This area can be accessed in several ways, with different entrance to the various beaches and a vast open area which can be largely explored on foot.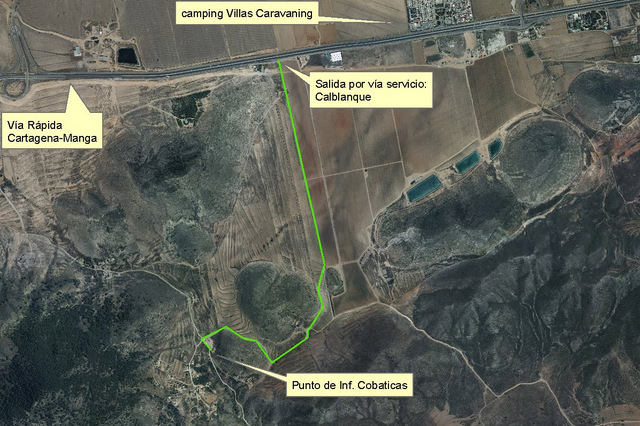 There is an information centre at Las Cobaticas which is open to the general public (see map).
The easiest access is on the opposite side of the road to the La Manga Go Karting at km 13 on the RM-12 motorway. The access road leads down to a small bay from which it is easy to set off on foot and follow the coastal path: sturdy footwear is recommended as the route is on loose stone, with strong gradients.
Opening Times:
Open Tuesday to Sunday including public holidays:
October to May from 9am to 2pm and 3pm to 5.30pm
June, July, August and September from 8.30am to 3.30pm
Telephone: 649 22 75 82
Email: infocalblanque@carm.es
Click for map to show Salinas of Calblanque, the Rasall salt flats.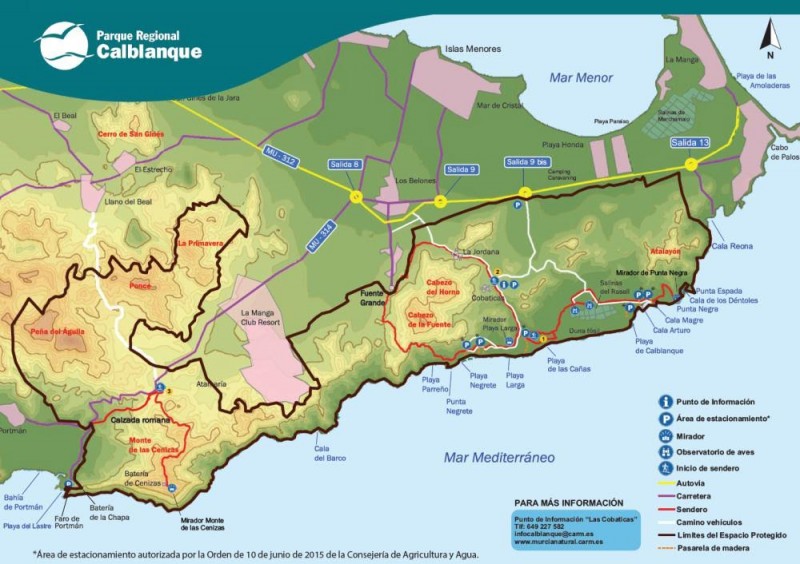 article_detail
article_detail
Contact Murcia Today: Editorial 966 260 896 / Office 968 018 268