Almoradí, Burning the crosses of May, 1st May
Almoradí, the crosses of May The tradition is adapted from the same custom as the Maypole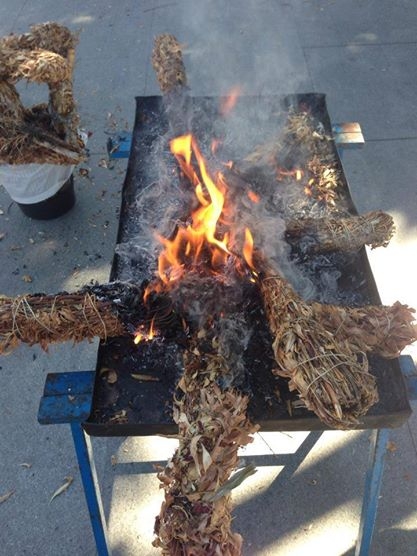 Almoradí, in the Comarca de la Vega Baja, Alicante province, has an interesting local tradition relating to May Day on 1st May.
Each year locals gather in the Plaza de la Constitución to burn the small crosses which previously adorned their doorways and collect a new one after Mass.
It is said that the tradition of making May crosses was inherited from the Romans, as many Iberian towns took over Roman and pagan traditions and converted them into acts of the Christian faith. After the Civil War, which ended in 1939, many priests attempted to get rid of such customs, viewing them as mere superstition, but in towns such as Granja, Redován and Callosa de Segura they have become a part of local cultural identity and locals are keen to maintain them.
In Almoradí the tradition of the May crosses used to have its deepest roots in the countryside, but now there are more and more people observing it in the centre of town, the Peña Huertana Los Santicos de la Piedra working to maintain and resurrect the tradition.
This can be a difficult task, because the tradition demands that the crosses be made out of weeping willow, a tree which has become even less common in the area recently than it was in the past. The Peña only produces the basic structures of the crosses, and then each person decorates the structure as he or she sees fit after it has received the blessing of the parish priest.
These are kept throughout the year, many hung on the front doors or balconies of residential dwellings then brought into the central Plaza on May Day and burnt. There are many fiestas which include burning across Spain, burning being a cleansing act, seeing out the old and bringing in the new.
In Callosa the tradition is very similar: each resident places a florally decorated cross on their wall throughout the year and changes it on May Day.
Contact Murcia Today: Editorial 966 260 896 / Office 968 018 268