A celebration of Jewish food in Lorca this Hanukkah
ARCHIVED ARTICLE
-
As part of the Jewish Lorca festival, Lorca City Hall presents 'Flavours and Aromas of Sepharad'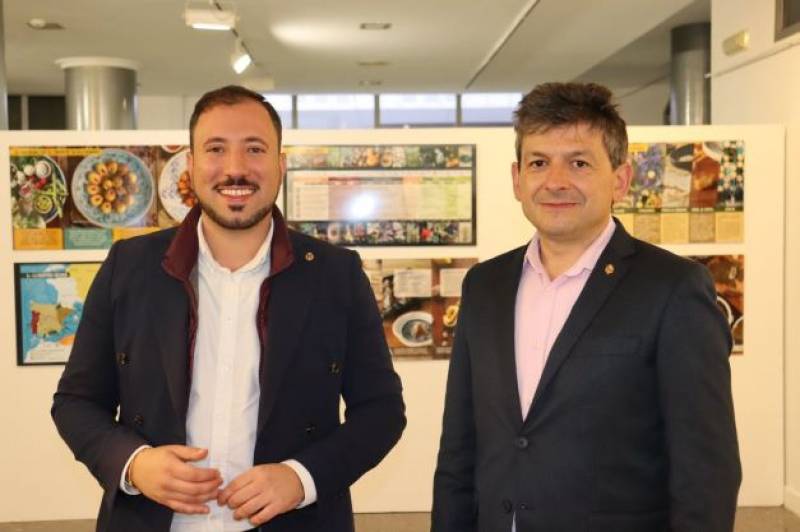 The Deputy Mayor of
Lorca
and Councillor for Tourism, Francisco Morales, this morning presented the new project '
Sabores y Aromas de Sefarad
' (Flavours and Aromas of Sepharad), framed within the eighth edition of the 'Jewish Lorca' festival, along with the president of the San Clemente Federation, Luis Torres del Alcázar.
The Councillor for tourism explained that "this is an initiative that was born through the exclusive 'Network of Jewish Quarters of Spain – Paths of Sepharad', of which Lorca has been part since 2019, and whose main objective is to promote and give value to the rich gastronomy of Sephardic origin, showing it to the world.
There will be an exhibition and a conference where Javier Zafra, the author of the book "Sabores y Aromas de Sefarad" and promoter of this initiative, will give a talk on the subject.
The new exhibition will be available to visit from December 7, 2022 until January 4, 2023 at the Lorca Cultural Centre and can be visited from 8am to 2pm and from 3pm to 9pm. Meanwhile, the conference "Symbology and Secrets of Judeo-Spanish Gastronomy" by Javier Zafra will be held at the Casa del Artesano on Monday December 12 at 5pm.
With this celebration of Jewish food, Lorca hopes to pay tribute to the intangible heritage of gastronomy; a journey through the history of Sephardic cuisine through the diaspora, the incorporation of ingredients, the mixing of cultures and the symbolism of a cuisine which was banished by the Spanish Inquisition but which always remained in some form on the dinner tables of Spain.
In addition to making known the history of Judeo-Spanish cuisine, the exhibition also highlights the role of women as a key element in the development and evolution of Jewish food in Spain, having meticulously guarded the recipe books that have been passed down from generation to generation throughout history.
"We encourage Lorca residents, visitors and tourists to enjoy this unique experience that will enhance our senses by offering us the gastronomic treasures of Sephardic cuisine, both traditional and contemporary," concluded Morales.
Image: Ayuntamiento de Lorca
Contact Murcia Today: Editorial 966 260 896 / Office 968 018 268