Date Published: 15/09/2021
ARCHIVED

- Two new Swiss Pilatus trainers arrive at San Javier Air Academy to replace veteran C-101
These are the first of 24 units of the PC-21 ordered by the Air Force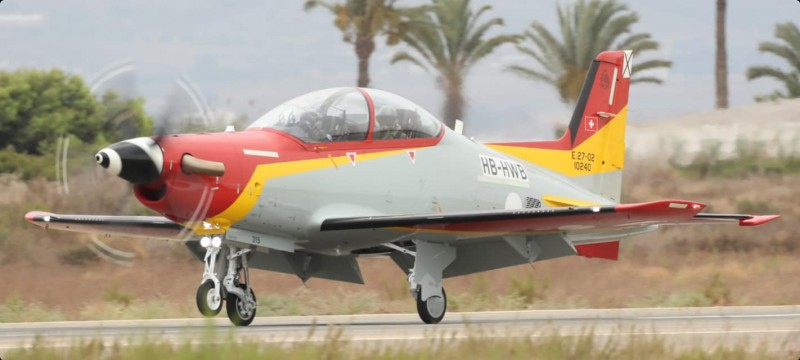 The first two PC-21 aircraft, manufactured by Swiss company Pilatus, which will replace the C-101 trainer planes have been delivered to the San Javier General Air Academy.

The planes flew directly from Switzerland, where eight pilots have been training during the summer.

The Swiss company was awarded the public tender to replace the veteran C-101 trainers formerly used by the Air Force, with an offer of 24 aircraft and ground equipment comprising an emergency exit trainer, two cockpit simulators and two networked flight simulators, as well as an initial logistics package.

The bulk of the planes and simulators will be delivered in June 2022 to co-incide with the conclusion of modernisation works currently underway at the Academy.

The General Directorate of Armament and Material (DGAM) of the Ministry of Defense selected the bid from Swiss company Pilatus Aircraft Ltd. as offering the best value for money.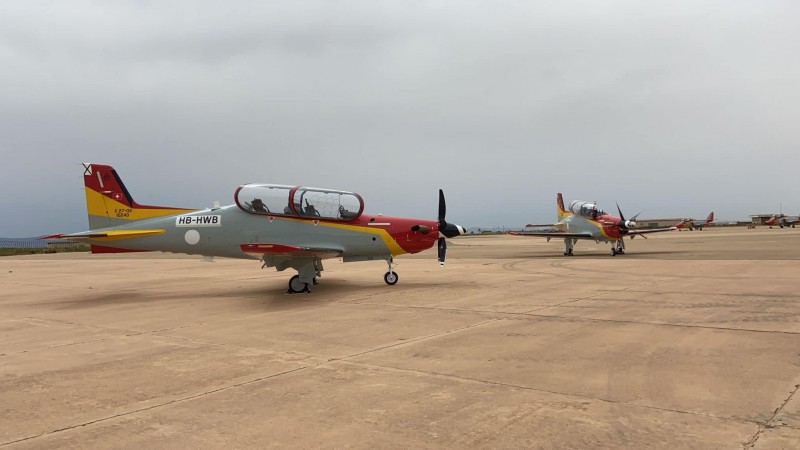 The PC-21 provides the Air Force with the most advanced training system currently offered, as well as a cost-effective and ecologically viable training platform, using a full computerised and simulator-based pre-flights programme, which will reduce the number of hours required in the air in order for pilots to achieve a full level of competence.

The PC-21s have a 1,600-horsepower turboprop engine, capable of reaching 700 kilometres per hour and a maximum height of 8 kilometres. With a range of 1,300 kilometers, they are capable of travelling from San Javier to any point in Spain without the need to refuel.

The Air Force said in a press statement that experience with current customers of the PC-21 has shown that the cost of training for a military pilot can be reduced by more than 50% with this aircraft, as these single-engine turboprop aircraft require much less fuel than any comparable aircraft trainer and the use of training simulators reduces the hours required in the air.

The new Swiss aircraft has avionics similar to fifth-generation fighters. It is an advanced training aircraft that will allow new Air Force pilots a complete their aeronautical training from the first phases of flight to the transition to combat aircraft.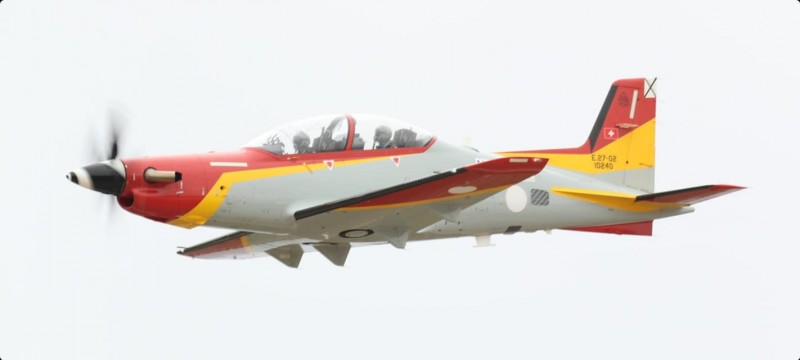 The PC-21 is already operated by the air forces of Saudi Arabia, Australia, United Arab Emirates, France, Jordan, Qatar; UK, Singapore and, of course, Switzerland.

At the controls of the planes were two pilots from Pilatus, accompanied by Air Force pilots from the Logistics Center for Armament and Experimentation (CLAEX) and the General Air Academy.

The Air Force maintains that the new planes are not a "replacement" for the 40-year-old C-101 trainers formerly used, but rather an "evolution" in training capability.

The Patrulla Águila will reportedly continue to use the C-101 as these are "of Spanish manufacture and are synonymous with the identity of the Eagle Patrol, " according to un-named sources as reported by the regional Spanish media.

Four pilots, including instructors and their pupils were killed in accidents during 2019 and 2020, their planes crashing into the sea off the Murcian coastline during training sessions.

Images: Spanish Air Force
Contact Murcia Today: Editorial 966 260 896 / Office 968 018 268