White bream ceviche, a combination of the culinary traditions of Murcia and Peru

Help to conserve the world's fish stocks while trying a delicious recipe!
This is a dish which combines one of the fish species which are common along the Mediterranean coastline of the Region of Murcia with the culinary tradition of the "ceviche", which is usually associated with Latin America and the Caribbean.
Ceviche is thought to have originated in Peru, and is made using fresh raw fish cured in citrus juice such as lemon or lime, and then spiced with ají or chili peppers. It is usually served with side dishes such as sweet potato, rice or avocado – in this case with poppadoms - and as it is not cooked with heat it must be prepared and consumed fresh.
This particular ceviche, using white bream, is a recipe presented by Juan Francisco Paredes to support the "Pescado con Arte" campaign, which aims to encourage people in the Region of Murcia to consume fish which is caught locally and using traditional methods rather than to encourage over-fishing by purchasing kinds of fish which are in low supply in the world's oceans, and in particular in the Mediterranean.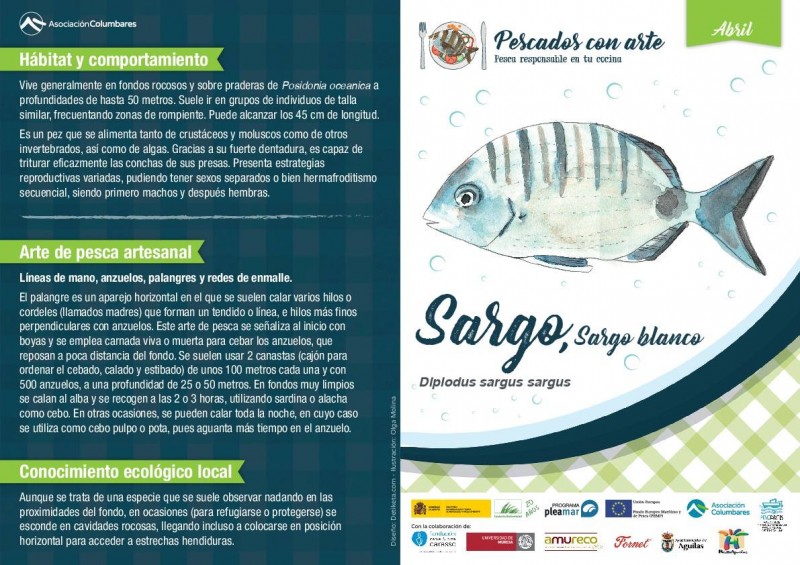 The "sargo blanco" or white bream is related to the gilthead bream, and is differentiated by the ten black bands (five broad and five fine) which run vertically up and down its body, as well as a black ring at the stem of the tail. It subsists on a diet consisting mainly of seafood, which enhances the flavour of its white meat, and its specified minimum length for commercial purposes is 15 centimetres.
Ingredients (for 4 people)
1 800-gram fillet of white bream, fully boned and cleaned
2 red onions
1 spoonful (25 grams) of corn kernels
A pinch of recently ground pepper
Salt
2 poppadums
For the "leche de tigre" (tiger's milk) sauce
5 limes
100 grams of passion fruit
150 grams of coconut milk
½ ají pepper
1 spoonful of sugar (25 grams)
A few strands of coriander or chive
Preparation
First, prepare the "tiger milk": place in a bowl the juice of the limes, the passion fruit, the coconut milk, the sugar, the coriander and a pinch of salt and mix or blend thoroughly. Once a consistent texture has been achieved, place the mix in the fridge.
Now, ensure that the white bream is completely clean of skin and bones and cut into medium-sized pieces. Place them in a bowl which has been kept in the fridge for a couple of hours, and add the onions (diced or in thin strips), the corn grains and salt and pepper to taste.
Add the tiger milk to the mix and allow it to marinade in the fridge for five minutes.
Presentation
First, flash-fry the poppadums. Then, place a couple of spoonfuls of ceviche on each plate, decorating with coriander or chives, and insert half a poppadum into each helping in the shape of a sail.
Bottom image: Comparison of bronze bream and white bream Image Jeff Hatt Wikipedia
article_detail
Contact Murcia Today: Editorial 966 260 896 / Office 968 018 268