Date Published: 27/10/2013
The Roman Quarry at Mil Palmeras beach
Pilar de la Horadada was once a Roman settlement called Thiar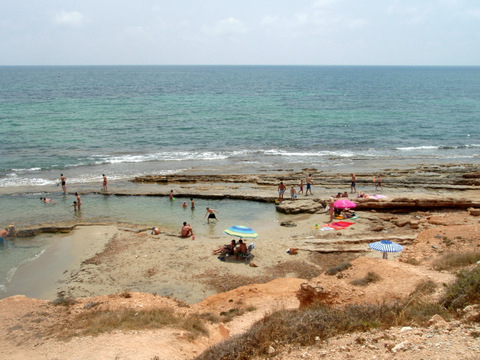 Many bathers will wonder about the unusual rock formations under the small cliffs at the southern end of the Mil Palmeras beach, near the area where the Rio Seco runs down to the Mediterranean.
Click for Playa Mil Palmeras

In the past many had thought that they marked out small ponds or fish farming areas, but the evidence and analysis of archaeologists has now concluded that this was a Roman quarry, where stone was extracted for construction projects. The quarry was definitely used in the 1st and 2nd centuries BC, and possibly at other times since then, but the site has now been partially engulfed by the sea. Very little is visible to indicate that this was a scene of quarrying activity other than some curiously flat rock and some cut rock.

This whole coastal area was occupied by the Romans, with a major port across the border in what is now the Murcia Region at Cartagena from which minerals including lead and silver were mined in the Sierra Minera and exported across the vast Roman empire, along with olive oil, fish sauces, esparto grass, wheat and wine, all grown and produced along the coast and inland. ( Click to see full history of Pilar de la Horadada)

Cartagena was a major city, with large, monumental buildings requiring quarried stone, and there were many other settlements scattered across this whole area which would have used local stone.
The settlement at what is now Pilar de la Horadada was called Thiar, marking a stop-off point on the road from Cartagena ( Carthago Nova) and linking the Via Augusta to Ilici, just 2 kilometres from modern day Elche.

The Via Augusta was another major project absorbing cut stone, a major trade route and road built by the Romans using earlier Iberian trade routes which ran right the way along the Mediterranean coastline from Cádiz to the Pyrenees and across into modern day France, feeding into other routes running across Europe, leading to Rome itself.

Just a small part of this quarry site remains visible today, some of the stone providing a convenient picnic zone for holidaymakers enjoying the beach.

Artifacts relating to this period can be seen in the municipal Archaeological museum in Pilar de la Horadada, which also has a life sized model showing how the Via Augusta was actually built, some of it to a depth of 1.8 metres and visitors with an interest in Roman history will find a trip to nearby Cartagena of interest, with a number of monuments and museums which can be visited.

Contact Murcia Today: Editorial 966 260 896 / Office 968 018 268