Date Published: 30/09/2021
ARCHIVED

- Spectacular black vulture rescued at industrial estate in Alicante
A local police officer in Bigastro managed to capture the huge disoriented raptor in the Vega Baja, Alicante province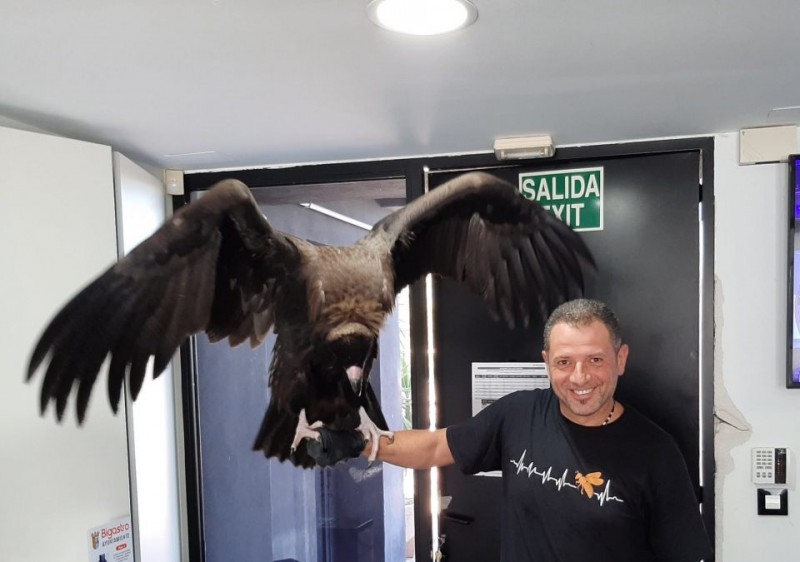 A giant, disoriented black vulture, one of the largest birds of prey in the world, has been rescued in Bigastro and is now being cared for at Alicante Wildlife Recovery Centre.
On Monday afternoon, September 27, Bigastro Local Police received a call from a local resident reporting that a large black vulture was wandering Apatel industrial estate, and appeared to be lost and disorientated.
Officer Efrén Pamies has plenty of experience in animal rescues, and despite being off duty at the time, immediately offered to help try to catch the raptor safely.
#Bigastro: Se trata de un hecho excepcional y poco común puesto que esta especie es el ave de mayor envergadura de la península ibérica https://t.co/wpd4IlgA2R pic.twitter.com/Gt6fdfS3ep

— diariodelavega (@diariodelavega) September 28, 2021
With the help of a blanket and protective gloves, the officer was able to calm and capture the vulture, before it was transferred initially to police headquarters and then to the wildlife recovery centre.
Pamies believes the young bird of prey, thought to be about one-year-old, must have become fatigued during a long flight and landed in Bigastro to rest.
Black Vultures are found throughout much of southern Europe, and can grow to well over a metre in length, with a wingspan of more than three metres. And the mighty raptor can weigh up to 14 kilos, making the species one of the world's heaviest flying birds.
The oldest wild black vulture on record was almost twenty-six-years-old, and they can live even longer in captivity.
Last week, an eagle owl that was injured after flying into a fence in Albatera, also in the Vega Baja, was rescued by a local partridge hunter, who handed the stunning bird over to local police.
Image: Policia Local Bigastro Facebook
Contact Murcia Today: Editorial 966 260 896 / Office 968 018 268