Date Published: 24/03/2014
ARCHIVED

- New law: Traffic department laws relating to foreign registered vehicles
Children under 16 must now wear cycle helmets, and children are not allowed in the front seat of a vehicle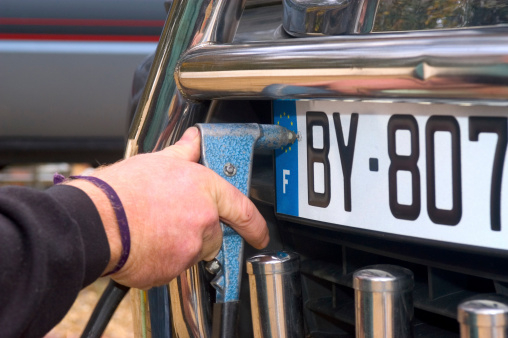 On 20th March 2014 the Spanish parliament passed its new law governing Traffic, Motor Vehicles and Road Safety, which contains a number of major changes to Spanish law which will affect expat residents in a number of ways.

The main points can be found in an extensive document on the main Spanish News Today site, but several key points should be highlighted, particularly for those living here or planning a visit this year.
Once the new legislation has been published in the state bulletin, the BOE, it becomes effective within one month.

The key points for expats are:
All foreign registered vehicles owned by foreign residents must be transferred to Spanish plates.
Foreign residents and businesses keeping vehicles in Spain for use will be obliged to register their vehicles in Spain, and with Spanish plates. Until now the obligation has been only to meet special tax requirements, but as a result it has proved difficult to fine foreign residents for road traffic offences. This new requirement will apply to both residents and the owners of businesses in Spain, who own vehicles which are to be used on Spanish roads other than those which are here for a vacational visit only.
Police can use a variety of ways to prove if a vehicle has been in the country for more than one month, such as checking insurance paperwork, ITV documentation and vehicle taxation records, so if you are a resident and own a vehicle in Spain, it must now be transferred onto Spanish plates if it is to be driven on the roads in Spain.

Child safety seats and use of helmets when riding bicycles.
Children will not be allowed to travel in the front seats of motor vehicles. In theory, this change is not actually made explicit in the text of the new law, which says only that "it will be possible" for children to be banned from sitting in certain seats depending on their age and size, but in practice the new highway code will make it illegal for those who are under 1 metre 35 to use the front seats unless all space in the back of the vehicle is taken up by other minors or there are no rear seats. Until now those aged under 12 have been allowed to travel in the front as long as they use the recommended child retention system.
Failure to comply with this rule will result in a fine of 200€, and in taxis those liable will be not the drivers but the parents or guardians of the child, so if you're booking a rental car and travelling with children, make sure you inform the rental company that you require child restraints in the hire vehicle.

All cyclists aged under 16 will be obliged by law to wear protective helmets in urban areas: the parents or guardians of those not doing so will be liable to fines of 200 euros.

Fines can be imposed without the vehicle being stopped
Police and Guardia Civil officers will be able to impose fines without stopping a vehicle. If officers see an offence committed but are unable to give chase or detain the offending vehicle they will be able to impose fines without making a formal identification of the driver.

Changes to speed limits
A new 20 km/h speed limit is being introduced for special areas ( ie around schools in urban areas)

Changes to period for discounts on fines
Fines will be reduced by 50% if paid within 20 days, rather than the previous 15, and the period for lodging appeals will be similarly extended.




Contact Murcia Today: Editorial 966 260 896 / Office 968 018 268