Discovering Murcian gastronomy...spotlight on sausages
Hard and soft, long and short, spicy and sweet… a guide to some of the commonest "embutidos" in the Costa Cáldia
One of the most difficult aspects of the local gastronomy of the Region of Murcia for visitors and expats to become familiar with is the variety of dried sausage-like products (or "embutidos") which are often served either as an aperitif or as a "tapa" snack, with the surprising range of products making it difficult to choose or even to remember which ones to order next time around!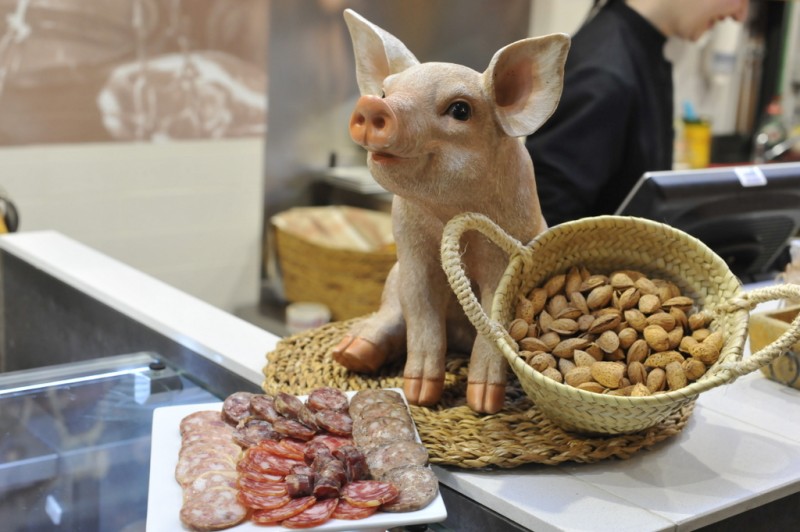 Making embutidos during the winter months is a traditional practice in Spain and has much to do with the "matanza" during which the family pig was slaughtered and every scrap of the pig turned into salted cuts of meat or sausage products, which could be smoked, hung up the chimney or strung from the rafters in a kitchen to store them for consumption throughout the year. Some, such as morcillos, which are made from blood, onions and pine nuts, very much like a black pudding, are usually eaten fresh, but others will store for long periods. It is important to hang them rather than store in plastic packaging which can cause sweating and then mildew, but remember to always put a "nose cone" on hanging sausages to avoid dripping fat once cut.
Below is a basic introduction to some of the products which are most commonly found in supermarkets, butchers' shops, bars, restaurants, along with a warning that as with so many traditional dishes there as many ways of preparing these products as there are producers. Local and even family recipes are passed down through the generations, and for this reason many discerning shoppers insist on always buying their chorizo, salchichón, blanco and morcón from the same place and sausage samplers will be surprised by the wide variations which can be encountered in a single variety.
Chorizo
Over recent years most northern Europeans have become acquainted with chorizo, a fermented, cured and smoked pork sausage to which the deep red colour is added by a liberal dashing of "pimentón" (dried, smoked and ground red paprika peppers). This is often eaten sliced without cooking, but can also be used to add flavour to other dishes such as fabada and stews.
As a delicacy on its own chorizo is most usually served as part of a selection of dried meat products and cheeses, often alongside salazones, and it can also be put to use as a pizza topping, like salami or pepperoni.
Spanish chorizo is usually made from coarsely chopped pork and pork fat, seasoned with salt, garlic and pimentón. In very general terms it may be classified as either "picante" (spicy) or "dulce" (sweet), depending upon the type of pimentón used, but there are no fixed rules as there are literally hundreds of regional variations.
Again in general terms, the longer, thinner chorizo is likely to be sweeter, while short, fat versions are spicier, but there are always exceptions to prove this rule!
The different variations in chorizos bought from a market or butcher are usually highlighted by lables which indicate the different "heat variations" used in the seasoning.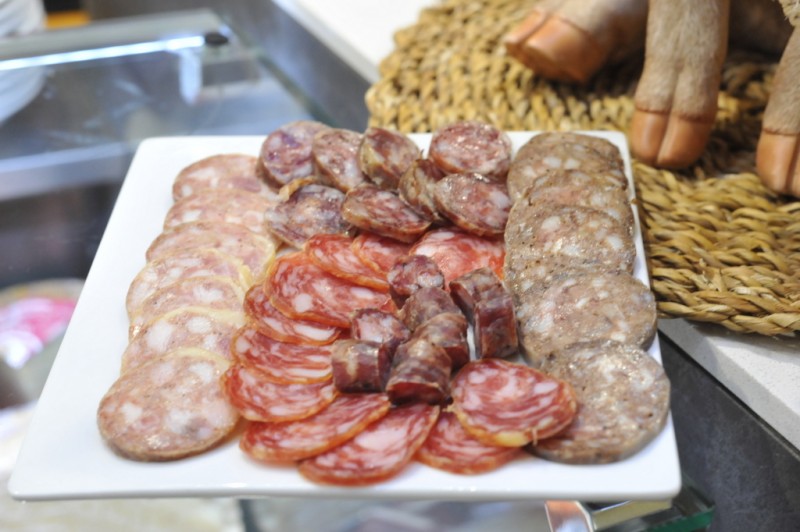 Salchichón
Salchichón is another cured sausage, flavoured not with pimentón (like chirozo) but with black peppercorns.
Morcón
Morcón is another type of chorizo and is eaten in much the same way, but it is made with leaner meat which is then stuffed into a casing of pork large intestine, making it wider than chorizo. The flavouring is provided mainly by sweet pimentón, garlic and salt.
But Murcia is one of the regions of Spain where the "morcón" is rather different, as it traditionally uses cooked pork and takes the form of a soft paste rather than dried meat.
Morcón blanco
Often known in Murcia simply as "blanco", this is a curious product in that it is based on a "morcilla" or blood sausage but doesn't actually contain blood.
This contributes to its light colour and its name, the actual ingredients usually being minced pork, bacon fat, eggs and spices such as nutmeg and ground pepper, and in technical terms it might be referred to as a "scalded" sausage.
For many people blanco is not an appetizing dish, due not only to the list of ingredients (although this, after all, is also the case with most kinds of sausage!) but also to its high fat content and its appearance. Typically, the ingredients might include the liver, kidneys and even the tongue of pigs, which are mixed with white bread and milk as well as eggs and then scalded for around 15 minutes.
However, the taste for blanco is one which it is possible to acquire: give it a try, on a piece of fresh bread and with a glass of red wine for company, before ruling it out completely!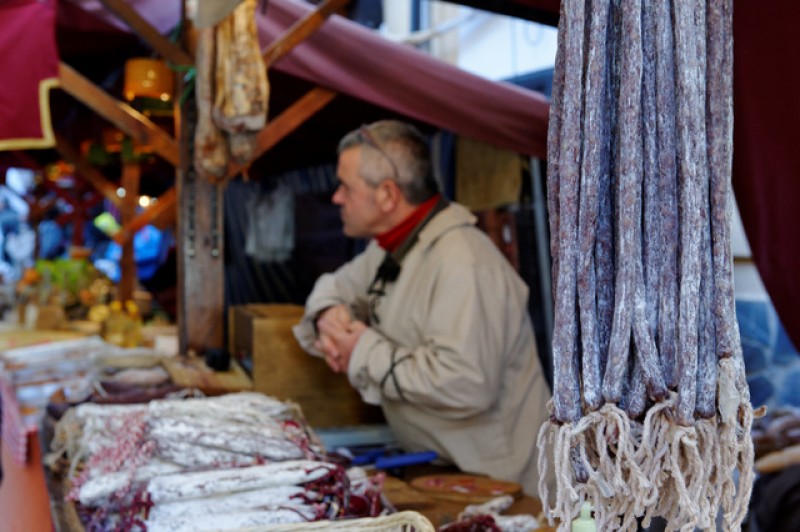 Longaniza
Longaniza is a variety of Spanish sausage which is different from chorizo primarily in that it is thinner and is flavoured by black pepper instead of "pimento" (paprika), and may contain other spices such as nutmeg. Lean pork meat is generally used, and the resulting product may either be dried to be eaten cold, or grilled or fried and consumed as a warm dish: it is always a favourite on the menus at the outdoor restaurants known as "barracas" or "huertas" which are set up in the city of Murcia for the fiestas of the Semana de Primavera in the week after Easter and the annual fair in September. It's also a popular favourite at artisan events, where it can often be seen hanging in long, thin strips from the stalls of specialist embutidos producers.
Butifarra
Butifarra is originally a sausage of Catalan origin which is now eaten throughout Spain and is found in many different varieties, some of which can be eaten dry, others are designed to be spread on bread and yet others may be fired or grilled in the same way as the traditional English sausage.
Varieties include butifarra cruda, the version for grilling or barbecuing, black butifarra (containing boiled pork blood in the mixture) and others in which the mix contains rice or eggs.
Lomo
"Lomo" is pork loin, and is very often sold raw and filleted for grilling, but it can also be converted into a lean, cured meat to slice, after being marinated and air-dried. This is often served as a tapa alongsode salted almonds.
OR
Read some of our recent bulletins:
Special offer 25% discount 12 months 48 Bulletins
(List price 12 months 48 Bulletins)
(List price 3 months 12 Bulletins)
Read more stories from around Spain:
article_detail
Contact Murcia Today: Editorial 966 260 896 / Office 968 018 268