Date Published: 07/11/2013
Mar Menor beach clean-up after downpour last week
ARCHIVED ARTICLE
Local residents are demanding action to avoid future disasters, but the guilty party can't be found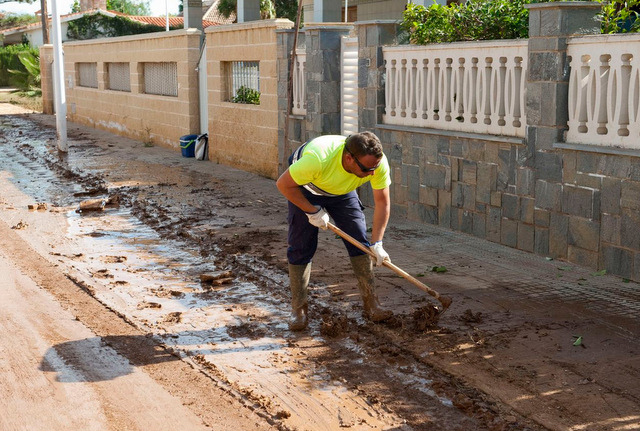 Around thirty council employees and staff from Aguagest and Lhicarsa have been busy this week cleaning up the mess in Mar de Cristal and Los Nietos following last week's storms, assisted by various items of heavy machinery clearing away mud from the streets and pavements and even the walls of buildings.

Local residents whose properties were affected also lent a hand, and efforts are being made to contact those whose under-builds or garages were flooded but who are probably still unaware of the fact as they live outside of the area most of the year.

Similar operations were carried out last week in La Manga, where there was a greater than expected influx of visitors over the long weekend due to the warm weather, and this week in Los Nietos and Mar de Cristal the clean-up force included three diggers, five pressure-cleaning trucks and five road-sweepers. The Costas office has been informed of the damage on the Paseo Marítimo in Mar de Cristal, where the water swept away the pavement.

The full clean-up of the beach itself will be carried out once the water level of the Mar Menor has subsided: thanks to the floodwater it was as high as the Paseo at the start of the week.
The flood occurred following an intense localized storm, which had remained stubbornly over the one area, although the whole of the Cartagena campo and Mazarrón had been put on alert for heavy downpours.

Meanwhile, as the floodwater recedes and the area gets spruced up, officials from Cartagena Town Hall are investigating the construction of a ditch and dyke on agricultural land nearby, since everything points to this having been responsible for the amount of mud, water and reeds which inundated the plots and basements of as many as 200 properties.

An investigation in May found that the work on the agricultural land was carried out without a licence two years ago and that the owner is liable to a fine of around 15,000 euros, but at the moment the actual location of the owner of the land is unknown.

Unsurprisingly, the residents are up in arms, complaining that in spite of the big clean up there are no moves afoot to ensure that the ditch is closed off or alternative run-off channels are provided in order to avoid future flooding, with the rainy season only just beginning.

Apparently, this is not the first time flooding has occurred in this area. A year ago there was a less serious flood in the same place, and two others are recalled by residents over the last two years: as a result they have written to the public ombudsman and reported the situation to the Town Hall, adding that the floodwater also brings with it hordes of mosquitoes and foul smells, bad for locals and bad for tourists!
.

Contact Murcia Today: Editorial 966 260 896 / Office 968 018 268