ARCHIVED

- Fortuna, Semana Santa programme 2014
Easter week processions in Fortuna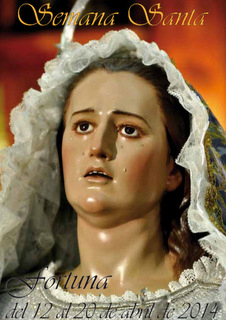 Vía Crucis
These take place at 7pm during March and 8pm during April every Friday from the beginning of lent, concluding on 11th April, departing from the Templo Parroquial.

11th April, Viernes de Dolores, Holy Friday
From 10am to 10pm the Iglesia Parroquial will be open for the faithful to kiss the hand of the Virgen de Dolores.
8pm Mass
9.30pm. Concert of processional marches in the parroquial church, being performed by the Agrupación Musical San Roque de Fortuna.

12th April, Holy Saturday
4.45pm Children's procession from the parroquial church

13th April, Palm Sunday
11:30 am- Blessing of the palms, followed by subsequent procession of the palms from the Ermita de San Roque.
6pm Procession of the entry of Jesus into Jerusalem from the Ermita de San Antón.
8.30pm Procession of repentant Saint Peter from the parroquial church

15th April, Martes Santo, Holy Tuesday
9.30pm Procession of Nuestro Padre Jesús del Rescate.

16th April, Holy Wednesday, Miércoles Santo
9.30pm procession of the Santísimo Cristo de la Columna.

17th April, Holy Thursday, Jueves Santo
7pm, Mass of the last supper in the Templo Parroquial.
11pm silent procession, the lights are dimmed and the procession of shame passes in silence through darkened streets. Jesus is betrayed.

18th April, Good Friday, Viernes Santo
9am procession of the encuentro
9pm Procession of the Santo Entierro.

19th April, Holy Saturday, Sábado Santo
From 10am to 7pm the image of the Santísimo Cristo Yacente is displayed in the Ermita de San Antón.
From 10pm onwards there is a midnight vigil in the parroquial church

20th April, Easter Sunday, Resurrection day, Domingo de Resurrección
9am procession of the resurrection
12 Midday mass.

For Semana Santa programmes for the Region of Murcia and basic explanation of the terminology used, Click Semana Santa in the Region of Murcia
Toffeali
Contact Murcia Today: Editorial 966 260 896 / Office 968 018 268