Away day at Desert Springs Friday September 5th 2014,Condado de Alhama Golf Society
ARCHIVED ARTICLE
Publish date: 09/09/2014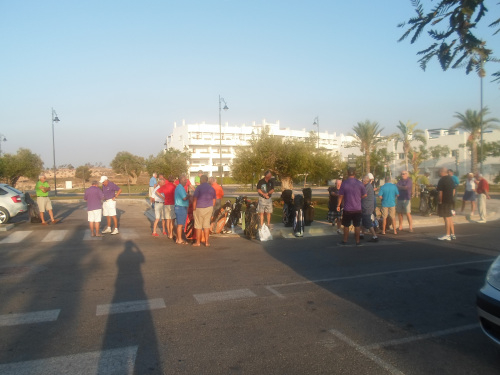 With our course being closed for hollow tining this weekend, we went back to an old favourite, Desert Springs. Only 35€ with buggy and we have always been welcomed with open arms. The society helped out with the cost of transport, so the coach return trip only cost each player 5€.

The journey itself was entertaining to say the least. The spanish coach driver drove down the service road towards Camposol (why?) and then we were asked if anyone knew the way! He did not know where we were going, or how to get there! The quickest way was down the A7, but for some strange reason he headed for the toll road AP7, joining it halfway to Aguilas instead of the junction just beyond Camposol. This took 40 minutes just to reach the toll road, Last time we went it took just over an hour for the complete journey. Coming off the toll road we went in completely the wrong direction, and after 2 stops to ask the way finally arrived after 2 hours, being 20 minutes late for our first tee time. To add insult to injury, the driver had no money on him, so Ray Vivian had to pay the toll, and on arrival he also asked for some money for fuel! Honestly a professional company who do not provide a sat nav for their driver!

We played a 1,2,3 waltz and all the golfers enjoyed the day with the course being ion excellent condition. Most of the scores were quite close, but the team of Jim Alwell, Ray Vivian, Paul Harrington and Ken Saunders romped home by 8 shots.
Next week is the ladies day - here is the last call for you to join in........................
Non golfing ladies meet at clubhouse 12.30 for putting competition and drinks....
Due to change of chef in the French restaurant the menu has changed slightly, so please in form Alicia and Kim of your choices (events@cdagolf.com)

1st course
spaghetti with peppers, chicken and bacon
or goats cheese and honey

Then 2nd plate
Still chicken diablo or
pork in beer
the dessert is
Tiramisu or ice cream

12 euros per person.
Due to entertainment licence restrictions, we are unable to have a singer outside in the Al Kasar, but there should be something happening inside the Clover.

One of our members has decided to sell his IRM golf rights membership, which covers all six courses. It is on offer at 7000€ with aprox 21 years remaining, which sounds a great deal. Initially the cost was about 20000€ for 25 year membership. If anyone is seriously interested, contact me at barry@cdagolf.com. I will put you in touch with the seller.

I have always loved the Edinburgh fringe, with great comedians (both famous and unknown) so heres the short list for joke of the festival in 2014 (Tim Vine won, he also won in 2010 and finished 2nd twice since).

Notice they are all quick one-liners?

1. Ive decided to sell my Hoover... well, it was just collecting dust" - Tim Vine.
2. "Ive written a joke about a fat badger, but I couldnt fit it into my set" - Masai Graham.
3. "Always leave them wanting more, my uncle used to say to me. Which is why he lost his job in disaster relief" - Mark Watson.
4. "I was given some Sudoku toilet paper. It didnt work. You could only fill it in with number ones and number twos" - Bec Hill.
5. "I wanted to do a show about feminism. But my husband wouldnt let me" - Ria Lina.
6. "Money cant buy you happiness? Well, check this out, I bought myself a Happy Meal" - Paul F Taylor.
7. "Scotland had oil, but its running out thanks to all that deep frying" - Scott Capurro.
8. "Ive been married for 10 years, I havent made a decision for seven" - Jason Cook

Click for more information about Condado de Alhama Golf Society
Contact Murcia Today: Editorial 966 260 896 / Office 968 018 268