Eugenio Campos Chiropractor chiro-massage acupuncture
staff.inc.ali
Address
Calle La Torre, 4, 1ºA Edicio Las Antillas 30860 Puerto de Mazarron
Tel: (+34) 968 594284

Sports injuries, back problems, sciatica, back, neck and shoulders Puerto de Mazarron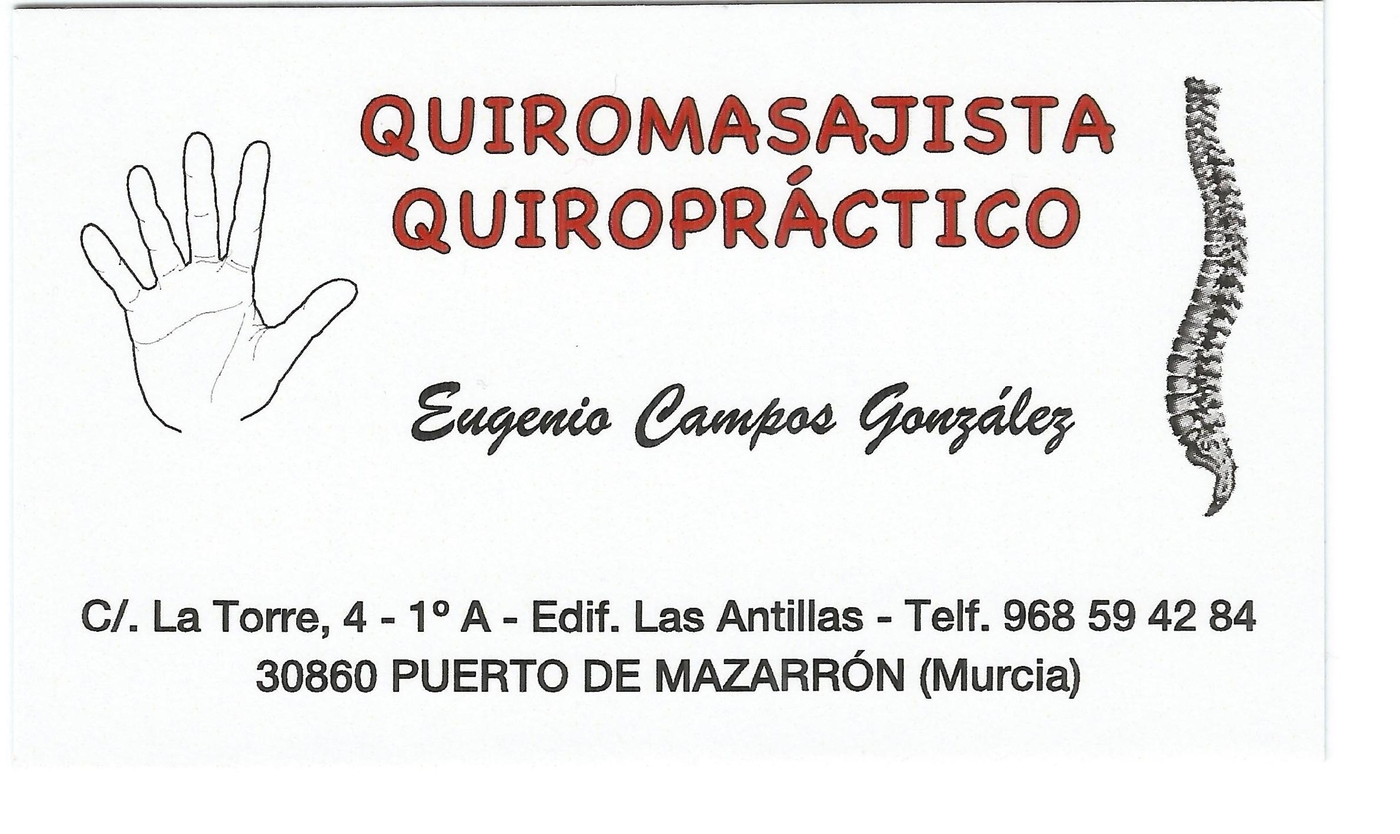 Eugenio Campos is a chiropractor and chiro-massage specialist with 23 years of experience in his field, who now runs his own small clinic in Puerto de Mazarrón. He treats patients for a variety of complaints, mainly specializing in sciatica, lumbago and all conditions related to back, neck and shoulder pain, although sports injuries are also within his field.
For many the speciality of chiropractic still belongs to the field of alternative medicine, but this should not mislead anyone into thinking that there is anything mystical about the services offered by Eugenio. His approach is very down-to-earth, identifying the source of pain or muscle spasms and treating not only the symptoms but also the cause. If this involves dealing with misaligned vertebrae or postural problems derived from a sedentary lifestyle – a lot of driving or sitting at a computer keyboard, for example – then a few expert clicks and cracks relieve the pressure on the part of the skeleton affected. He then sets to work on the over-tense muscles or trapped nerves which can cause so much discomfort with a thorough massage of the area affected.

Those who seek out Eugenio's professional services include both one-off visitors with a specific problem (including sports injuries) and those who have recurring back problems or other similar types of discomfort: a visit every two or three months can help to keep serious episodes of back pain at bay.

Eugenio has been passing on his expertise to others for twenty years, teaching chiropractic and chiro-massage at a private academy in the city of Murcia. For those wishing to try other forms of treatment he is also a qualified acupuncturist.

A typical session 60-minute treatment session costs around thirty euros, and consists of half an hour of hands-on treatment followed up by a back massage on the spinal massage bed: this sounds relaxing but in fact is a very thorough workout for the spine and the muscles surrounding it, and patients who begin their session hunched and in pain can walk out relieved and standing tall!
standard_listing
| | |
| --- | --- |
| Contact Murcia Today: Editorial 966 260 896 / Office 968 018 268 | |